Ceramic foam filters for casting are based on a carrier with a solid reticular structure and combined organic foam pores. Put the carrier into the thixotropic alumina slurry. After drying solidification, the AdTech ceramic foam filter PAl forms under 1180 ℃ high temperature. The ceramic foam filter plate is the key part of the aluminum filtering device. It can meet the requirement of production in high-tech performance aluminum alloy precision casting. AdTech alumina ceramic foam filter can effectively eliminate large inclusions in the molten aluminum, as well as small inclusions of a few microns. It also can reduce the hydrogen content in the molten aluminum, and absorb harmful elements.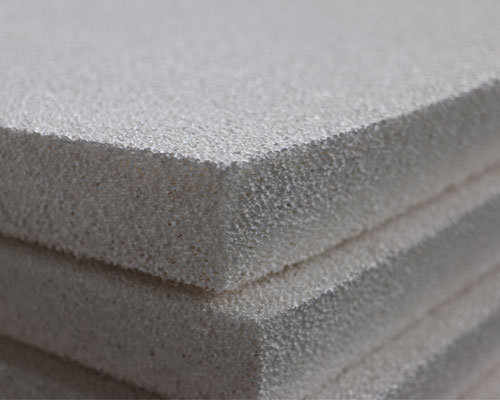 Ceramic Foam Filter – PAl Technical Parameter
Item
Density
(g/cm³)
Rupture Modulus
(816℃ /Mpa)
Comprehensive Strength
(Mpa)
Operating Temperature
(℃)
Sealing gasket expanding temperature
(℃)
Index
0.45
5.5
0.8-1.0
1350
450-550
Pore Size
Pore Size

(

PPI

)

20

30

40

50

60

Inclusions Diameter

(

um

)

80

40

20

10

5

Filtration Rate

(%)

78

85

88

92

95
Filtration Precision
Specifications (mm)

Effective filtration area(

%

)

Filtration flow range

(

kg/min

)

7in(178*178*50)

75

22-56

9in(229*229*50)

75

25-80

12in(305*305*50)

80

50-156

15in(381*381*50)

85

85-252

17in(432*432*50)

86

110-335

20in(508*508*50)

88

160-478

23in(584*584*50)

89

210-640

26in(660*660*50)

90

276-830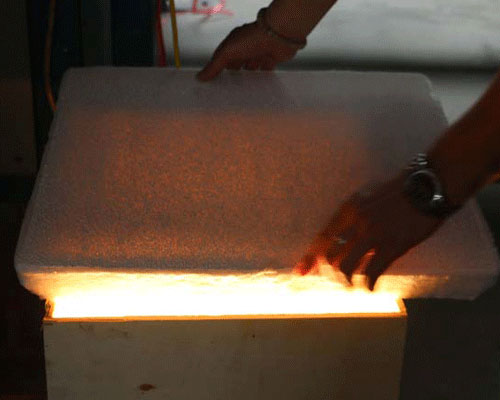 Features of Ceramic Foam Filter – PAl
Filtration accuracy covers fine filtration, microfiltration, ultrafiltration, nanofiltration, and reverse osmosis, and has a good effect.
High mechanical strength, stable chemical properties, good abrasion resistance, low resistance, anti-blocking, easy recoil, and easy to clean.
High efficiency, high yield, the beautiful arrangement of filter pore size, uniform and neat.
Good thermal shock resistance and metal liquid impact resistance, fully meet the requirements of customers using the environment.
With advanced production technology, AdTech company can provide customers with high-quality filter products of different sizes and different hole densities, and fully meet the needs of aluminum processing enterprises.
Strict appearance and size control technology are completely suitable for the production line of automatic filter placement.
Improve surface quality, improve product performance, and improve the role of microstructure.
It is widely used in the production of aluminum profiles, aluminum foils, aluminum alloys, etc.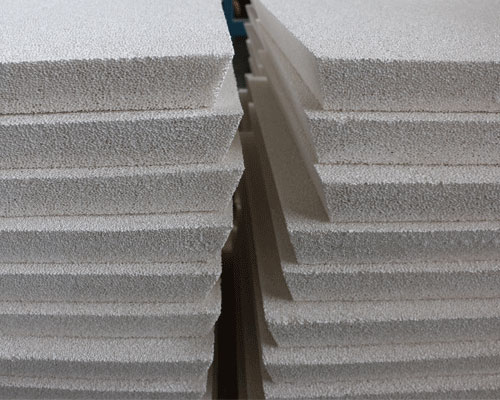 Ceramic Foam Filter
AdTech ceramic foam filters -PAl (CFF) are used to filter and clean aluminum for beverage can applications, aircraft alloys, and other premium aluminum applications. They are a practical and cost-effective way of removing inclusions from aluminum melts. AdTech CFF is available in various sizes and grades, so as to improve melt quality and ensure optimal filtration efficiency. Ceramic foam filters are made of phosphate-bonded, high-purity alumina, which offers a high surface area for each filter cell. This high surface area allows the filter to attract the inclusion of smaller particles.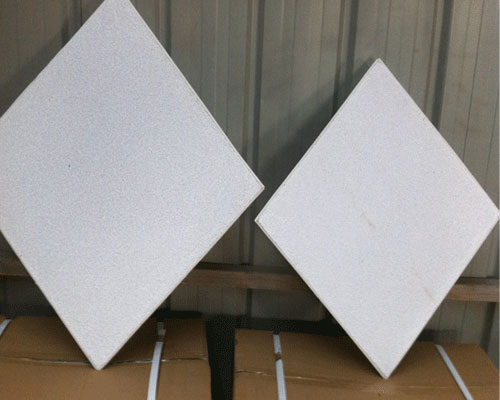 Alumina Foam Filter
Alumina foam ceramic is a kind of foam material made of high-purity alumina. The foam ceramic has the characteristics of uniform pores, high-temperature resistance, thermal shock resistance, wear resistance, and stable chemical characteristics. Products are widely used in foundry processing, water treatment, chemical industry, environmental protection, and other industries. It is an ideal liquid aluminum filter, catalyst carrier, and good sound insulation and heat insulation material. Product shape, size, and clearance PPI can be designed and manufactured according to requirements.
Alumina ceramic foam filter has excellent thermal shock resistance, strength, high porosity, and specific surface area. It can filter and adsorb the smallest possible inclusions in the molten metal. Alumina ceramic filter also can use their unique rectifying effect to obtain a smooth and fast laminar flow, prevent the entry of bubbles, and meet the requirements of different refractories and pouring speeds in the casting industry.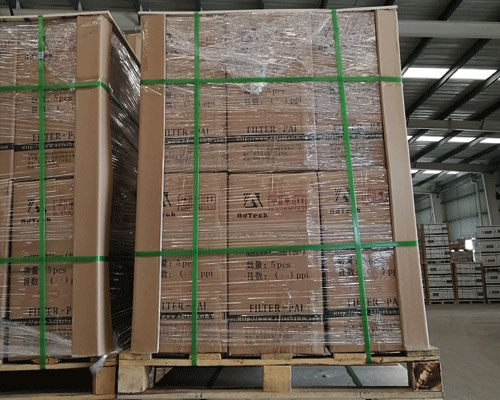 Ceramic Foam Filter Supplier
AdTech foam ceramic filter products can effectively remove solid inclusions in molten metal. So aluminum alloy can be smoothly forged, aluminum foil manufacturing, extrusion processing, and other processes to obtain a perfect aluminum product. The product has a selected range of 10 PPI coarse pore sizes to 60 PPI extremely fine pore sizes, so there will always be a product standard that suits your requirements. Ordinary sizes and special sizes required by customers can meet the requirements.
The use of the filtering process is mainly based on the following considerations. On the one hand, filtration makes the flow of liquid aluminum orderly and relatively calm. On the other hand, the ceramic foam filters for casting can effectively remove solid slag in the molten metal, and improve the quality of the casting. Alumina ceramic filters can significantly improve the quality of castings, and reduce tool wear and manufacturing costs. If you are interested in our products, please feel free to contact us.