The customer in South Korea wants hot top casting products. He contacted our salesman and expressed his desire to visit the AdTech company. We welcome customers to visit our factory. Mr. Jeong said he is very busy, and manages a number of companies. But he often comes to China to inspect the market. This time, Mr. Jeong brought a box of samples, there are six specifications of adapter plates and graphite rings for hot top casting.
Customers checked our ceramic filter plate production line, hot top material production line, CNC machine tool center, casting nozzle plate production line. They praised AdTech technology and advanced equipment. After visiting the factory, the South Korean customers checked the production samples we prepared. They gave a high evaluation and expressed that they needed these products in AdTech.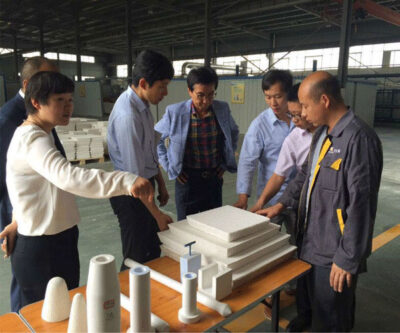 Our company staff took the clients to the airport. The South Korean customers appreciated our sincerity and welcomed us to visit South Korea. The gentleman and entrepreneurial spirit shown by Mr. Jeong is admirable. It is our honor to establish a strategic partnership with such people.
Hot Top Casting Parts Manufacturer
AdTech is the hot top casting products manufacturer, it is specialized in the development of new material. Since 2012, AdTech company has started to R&D degassing unit and plate filtration unit, hot top casting parts, and so on. In the Chinese market, AdTech Metallurgical Materials Co., Ltd is a leader in hot top casting parts. Hot-top casting is appropriate for casting connect, it is installed between distribution plate and aluminum billet casting. Hot-top casting parts include Distribution Plate, Thimble, Transition Plate, Graphite Ring, Flow Control Box. Hot top casting products are of the best quality in China, and the processing technology is the most advanced.