Ceramic Filter for Sale is mainly used to filter impurities in molten metal. It plays an important role in the production of the aluminum alloy casting industry. It can improve surface quality, product performance, and microstructure, and improve the yield of aluminum. Ceramic Foam Filter adopts the principle of adsorption to filter. Do not drop slag, effectively reduce the pollution to aluminum liquid. Good thermal shock resistance and corrosion resistance to molten metal.
Ceramic Filter for Sale in Korea
On July 12, 2019, a group from a Korean company visited AdTech. The Korean company has production lines for slab ingot, hot rolling, cold rolling, etc. It is the largest aluminum company in South Korea. At 11:40 noon, the South Korean customers visited the AdTech production workshop. Korean customers mainly visited the ceramic foam filter production line, fiber product production line, and hot-top fitting production line. They are interested in our ceramic filter for sale, and reached a batch cooperation intention.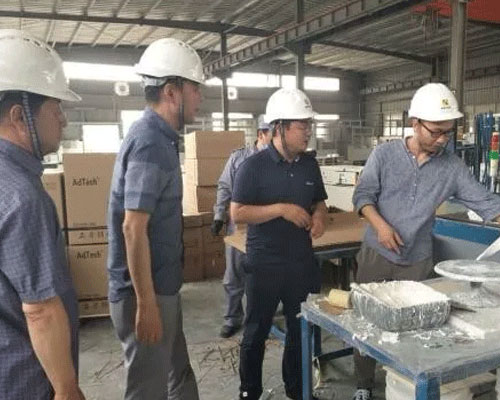 The team conducted detailed investigations on AdTech product production technology, raw material control, operation standards, production equipment, etc. And they fully affirmed the AdTech workshop environment, quality control, and inspection measures. Korean customers highly appreciate the implementation of the ISO quality system.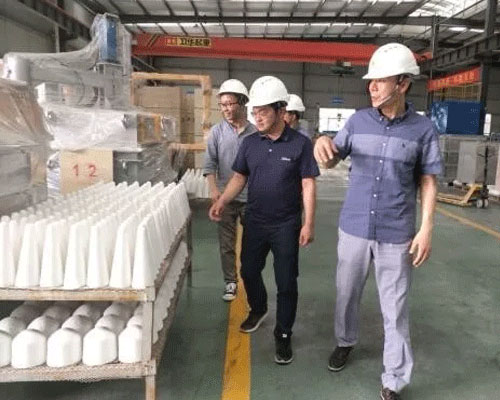 Subsequently, the Korean group visited the high-precision equipment workshop. The factory personnel introduces in detail about the online degassing equipment, online filtration equipment, tap out cone and other products. Korean customers communicate with the factory technicians carefully and make relevant records.
After the visit, Korean customers listened to AdTech product introduction, development history, future planning in the meeting room. Our technical staff introduced the test situation of the AdTech foam ceramic filter for sale, and they reached a batch cooperation intention. Flux, filter box lining and other products have reached the cooperation intention.
AdTech will continue to provide the excellent metallurgical materials for the aluminum casting industry, we have perfect after-sales service.