Alumina ceramic foam filters can effectively remove solid state mixed with molten metal, so aluminum alloy can be successfully forged, aluminum foil is manufactured, and extrusion processing technology is perfect for aluminum products.
These ceramic foam filters are specially designed for casting metals. Due to the formation of "cake" on the side of the entrance filter and deep filtration in the ceramic matrix, these ceramic foam filters are effective tools for achieving metallurgical purity of molten metals during casting. The filter also stabilizes mold filling and prevents undesirable defects in the casting.
These filter functions are limited by the open 3D structure of the ceramic matrix created by the interconnected unit systems. They have good thermal conductivity, stability and resistance to sudden temperature changes.
Ceramic Foam Filter Type
Ceramic foam filters have foam-like porous structures. They are made of refractory material resistant to molten metal attack. They are mainly used for filtration and purification of metallurgical and casting metal liquids to remove undesirable non-metallic inclusions and reduce residual gases in castings. There are three kinds of ceramic foam filters, alumina ceramic foam filter, silicon carbide (SiC) ceramic filter and zirconia foam filters.
The type of ceramic foam filter depends in particular on its application requirements. Therefore, filters for nonferrous metal alloys (casting temperatures up to 1000 ° C), filters for sheet and spherical graphite cast iron, and filters for steel filtration are used in practice. Depending on the casting material, filters based on Al2O3, SiC, ZrO2, or graphite can be used.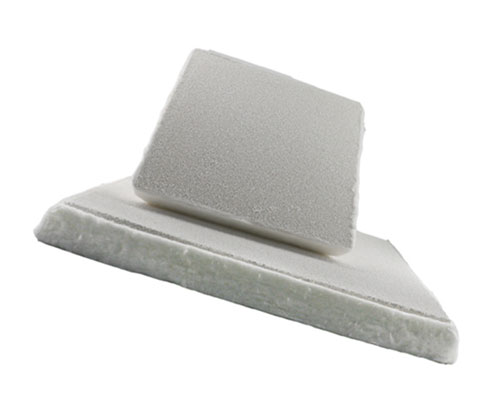 Alumina Ceramic Foam Filters
The alumina ceramic foam filters have a honeycomb-shaped straight channel. It is mainly used in the metallurgy and casting industry to filter out impurities, reduce porosity, eliminate turbulence in metal flow and improve casting quality.
Characteristic
lightweight
large surface area through-hole ratio
high pass rate
good chemical stability and corrosion resistance
high mechanical strength
high thermal shock resistance