Hydrogen degassing from melt can improve the quality of aluminum. In Adtech, metal processing includes flux injection and rotary degassing. Hydrogen is an impurity, and is the only gas soluble in molten aluminum, which creates pores in the casting.
In Adtech, metal processing includes flux injection and rotary degassing.
Our flux injectors are used to process molten aluminum – nitrogen is injected along with the flux to help clean, deslag, Degas and remove alkali metals.
In the process of rotating degassing, purge gas is introduced into the melt to improve the mixing ability and increase the collection of existing hydrogen atoms.
AdTech's refining flux is white with slightly gray powdery fine particles. Main ingredients are chloride and villiaumite, together with other compounds. After appropriate heat treatment and screening, it turns to uniform size, which is conducive for transferring in refining jar with(N2 or Ar) gas as carrier to the bottom layer of molten aluminum. Through physical and chemical changes in the molten aluminum, numerous small bubbles are formed and fully contact with molten aluminum, separating hydrogen and other harmful gases.
Hydrogen Degassing
Online degassing unit shall be installed between furnace and casting equipment. It is used for hydrogen (H) and slags removal from molten aluminum. The online degassing unit has dual functions: processing and heating. It serves high precision molten aluminum purification industry.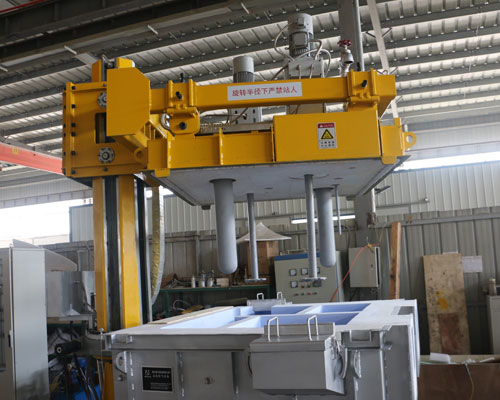 Online degassing unit adopts advanced high silicon melting technology to get a long service time, degassing rotor, heater protection thimble and thermocouple protection thimble adopt ceramic manufacturing technology which can meet producing high-precision aluminum requirements.
By manufacturing and supplying rotary degassers, we have been able to establish long-term and mutual business relationships with our customers. This machine is a perfect repeat for degassing molten aluminum. We use the best materials and components to make this machine. The machine can be transported to any furnace anywhere.