How to Use Aluminum Flux? Pay attention to the following issues when using flux refining.
How to Use Aluminum Flux
1) Different alloys should use different fluxes. We provide refining flux, slagging flux, oxide removal flux, covering flux. AdTech refining flux is a kind of white with slightly gray fine particles. The Main ingredients are chloride with other compounds. Deslagging flux is used for deslagging for roll casting and molten Aluminum alloy, especially for A356.2 alloy and wheel hub. Oxide Removal Flux is used for removing hard slags from the furnace wall and bottom.Covering Flux is used for inner furnace covering to prevent molten aluminum oxidation, lower oxidation, and burning loss.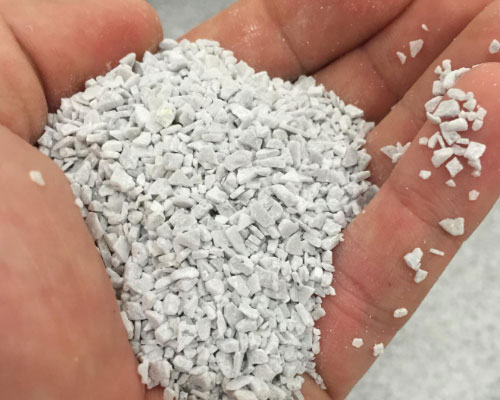 2) Make preparations before refining. The flux should be thoroughly dried beforehand to remove the moisture to prevent explosion accidents when the flux is added to the molten aluminum and improve the refining effect. The block size of the flux should be appropriate, and the block size is generally 50 ~ 80mm. Before refining, the refining basket should be preheated, the iron basket should be painted first, and the fume exhauster should be turned on. The electric furnace should be powered off.
3) Do a good job of refining operations according to regulations. The refining temperature should be controlled at the upper limit of the casting temperature to improve the refining effect. The amount of flux should be sufficient. For products with higher internal purity requirements, the amount can be larger, and the amount used is generally 6-8 kg/t metal; for general products, the amount used is 5-6 kg/t metal. During refining, the refining basket should be placed at the bottom of the furnace and moved evenly and slowly to eliminate dead corners. Avoid fixed-point refining. Take out the refining basket after the reaction is completed. After the refining is completed, the slag is removed immediately, and then the covering flux is sprinkled and left standing. The standing time varies depending on the product. For important products, the standing time should not be less than 30 minutes; for general products, it should be no less than 15 minutes.