Refractory fiber cone is also called ceramic fiber tap out cone. The furnace tap out cone is mainly used for controlling the liquid metal flow. AdTech refractory tap out cone adopts high-aluminum fiber, forms by the vacuum suction automatic equipment molding process. Each cone has a flat surface. More importantly, it has the features of appropriate hardness and toughness, not fragile, not peeling. Ceramic fiber tap out cone is suitable for mechanical or manual plugging and removal operations. AdTech ceramic fiber tap out cones are used in aluminum furnaces, fixed furnaces and other aluminum outlets. It makes the casting process of aluminum alloys more convenient, safe, and reliable.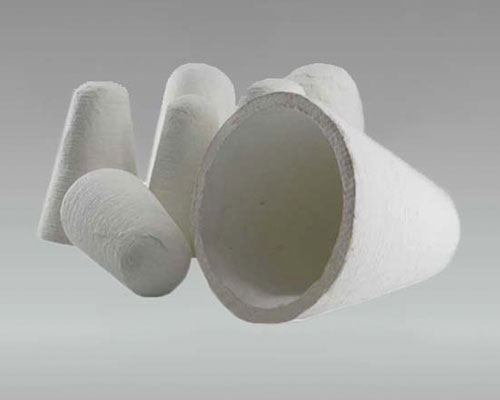 Chemical Component
| | | | | |
| --- | --- | --- | --- | --- |
| Chemical Composition | AL2O3 | SiO2 | Fe2O3 | TiO2 |
| Model Parameter(%) | 45.28 | 51.79 | 0.3 | 1.3 |
Parameters
| | | | | |
| --- | --- | --- | --- | --- |
| Items | Length | Shape | Package | Special Package |
| Tap out cone | 20-350mm | Cone shape / cylinder / open shape | 100-300pcs/box | As required |
Item
Density

g. cm3

Rupture modulus

(816℃ Mpa)

Thermal expansivity

(680℃ K-1)

Thermal conductivity

540℃W/k.m

Max operating temperature

(℃ )

Index(%)
0.3
1.5
1.56*10-6
0.05
1100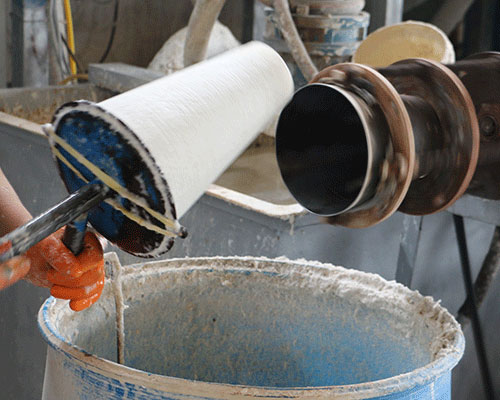 Refractory Fiber Cone Features
The plug has a tough texture, strong resistance to wind erosion, seamless lining.
Low heat storage and less heat loss.
It can directly contact with flame.
Excellent construction and installation performance.
Excellent thermal shock resistance.
High compressive strength and long service life.
The sound absorption effect is remarkable.
Manufacturing Method of Aluminum Silicate Fiber Plug
Pour high-purity ultra-fine aluminum silicate fiber into the beating pond, add fiber softener magnesium oxide and industrial sillimanite.
Adopt the motor water pump circulation system, stir the fiber and fiber softener together evenly, and after repeated washing several times, pump the slurry into the storage room for 20 hours.
The aged slurry is drawn out, and add a binder. The binder is selected from one or more of silica sol, carboxymethyl cellulose, and white latex, and weighed according to the specified ratio.
Using a conical plug forming mold, vacuum pump suction operation is used to adsorb the fiber slurry on the surface of the mold to make a plug blank.
Place the blank on the iron frame and push it into the electric drying room for drying. The drying temperature is set at 1500-1800 ° C, and the drying time is 6-8 hours;
Take out the fully dry plugs, wrap them according to the fixed number of large and small heads, and pack them.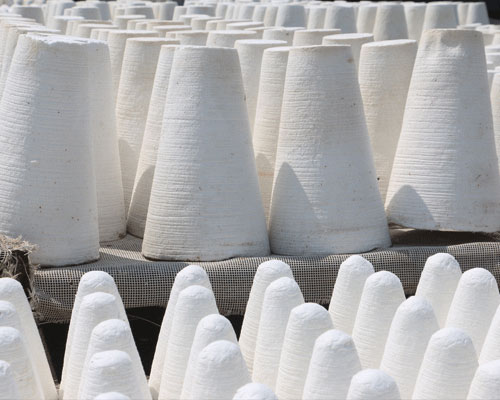 Tap Out Cone Manufacturer
AdTech company can meet customer requirements. Refractory fiber cone is white, it can be made into a special mold according to its shape and size. All products have low shrinkage in the applicable temperature range, and maintain their high thermal insulation. They have lightweight and impact resistance. The tap out cone has good abrasion and peel resistance and is not attacked by most molten metals. It can directly touch the flame, and improve the quality of metal castings.
The aluminum liquid tap out cone is made of high-quality ceramic fiber cotton and made by vacuum forming process. The purpose of developing this product is to make special-shaped products with superior high temperature performance and rigidity and self-supporting strength.
Liquid aluminum Tap Hole Cones are all special-shaped products that meet the specific production links of certain industrial sectors. Each product is made into a special mold according to its shape and size. According to the performance requirements of the product, different binders and additives are selected to Meet the requirements for use.
All special-shaped products have low shrinkage within their use temperature range, and maintain the characteristics of high heat insulation, light weight and resistance.
Unburnt materials can easily be cut or machined. During use, the product has good anti-wear and peeling properties and is not wetted by most molten metals.
Shape and supply: It can produce vacuum forming special-shaped products of various sizes and shapes.