Degassing unit for sale can remove hydrogen (H) and slag from molten aluminum. It has dual functions: processing and heating. Degassing unit adopts new high silicon melting material manufacturing technology. The plate-type filter equipment can effectively filter and block the micron impurities of the liquid aluminum. It uses new high silicon melting manufacturing technology. The high-precision on-line molten aluminum purifying units are mainly suitable for the aluminum alloy casting industry.
Degassing Unit for Sale
On April 1, 2018, AdTech welcomed the Colombian old friend Mr. GUSTAVO. At the Zhengzhou Hilton Hotel, AdTech General Manager Miranda held warm and friendly discussions with customers. And the two sides reached a preliminary intention for further in-depth cooperation. Mr. Gustavo was very interested in the new product online degassing unit for sale and filtering equipment. And he said to promote in the South American market. Ms. Miranda said that the AdTech company attaches great importance to market development in South America and hopes to cooperate with them for win-win results. Both parties may sign relevant agreements to protect the rights and interests of both parties.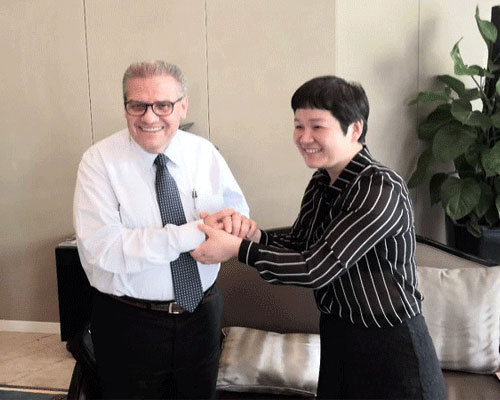 Since 2014, Mr. GUSTAVO has extensive cooperation with our AdTech metallurgical materials, such as ceramic filter plates, hot top accessories, etc. It has been four years since Mr. GUSTAVO's last visit. During this period, the company has changed a lot. The general manager Miranda kindly invited customers to visit the factory again. The client said that the time was tight, and he would take the high-speed rail to visit other regions after lunch. And he would take the time to visit the factory next time and see how the factory has changed in recent years.
At noon, the receptionist had lunch with Mr. Gustavo. After lunch, the general manager arranged a vehicle to send Mr. Gustavo to Zhengzhou High-Speed Railway Station, and ended his business journey.