On October 11, at the German Aluminum Industry Exhibition 2018. AdTech and Bahrain GMI formally formed an in-depth strategic partnership, they reached strategic cooperation. The two parties will give full play to their advantages in the industry, focusing on the promotion of more industrial areas, such as aluminum industry filtration and purification of new materials and equipment. And they signed a strategic cooperation agreement to jointly promote the upgrading of aluminum industry products.
On October 9, 2018, Dusseldorf Aluminum Industry Exhibition in Germany was grandly held in the exhibition center. AdTech CEO President Xiong led the foreign trade team business backbone to participate in the exhibition. At booth E55 / 06 in Hall 11, we received business, technology, and person in charge from various countries engaged in aluminum manufacturing, trading, and service.
Bahrain, the United States, Turkey, Brazil and other new and old customers visited our booth. We communicated face-to-face, related parameters of the product and installation and use skills, and discussed the specific content of the order in depth. The visiting customers had a good recognition and goodwill on the ingenuity, innovation, service and technology of the AdTech brand. This exhibition promoted the in-depth understanding of the AdTech brand in the aluminum casting industry around the world.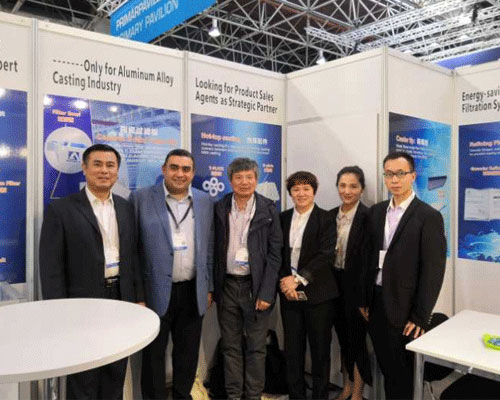 Strategic Cooperation
AdTech Metallurgical Materials Co., Ltd is an international enterprise. It mainly supplies new materials for the aluminum alloy foundry industry. AdTech focuses on the research and development of online degassing filter equipment, ceramic filter plates, hot top casting accessories, nozzle plates, and others. AdTech is a pioneer who pursues the brand relentlessly. AdTech company has successively developed dozens of series of products. So far, AdTech has covered a full range of materials in the aluminum alloy casting industry. It can fully meet the needs of various orders from customers.
This time, the two sides reached an in-depth strategic cooperation, which will focus on the following aspects:
Development of the aluminum ceramic foam filter market and promotion of brand strategy.
Promotion of online degassing and filtering equipment in the aluminum industry.
Online and offline precision marketing of aluminum ingot production line, aluminum rod production line and aluminum line production line in the Middle East region, and improve customer service experience.