Ceramic Foam Filter Manufacturers AdTech provides an alumina foam ceramic filter with aluminum corrosion resistance, high filtering effect. The alumina foam ceramic filter is made of polyurethane foam, which is impregnated with ceramic powder and solvent, and is prepared by drying and sintering.
The ceramic powder is composed of alumina powder, kaolin powder, barium carbonate powder or barium sulfate powder. The solvent includes water and silica sol: the alumina powder, kaolin powder, barium carbonate powder or barium sulfate powder reacts with silica in the bonding silica sol in situ to form barium feldspar which is not easy to be infiltrated by liquid aluminum. A layer of boron nitride coating is applied to the alumina foam ceramic filter.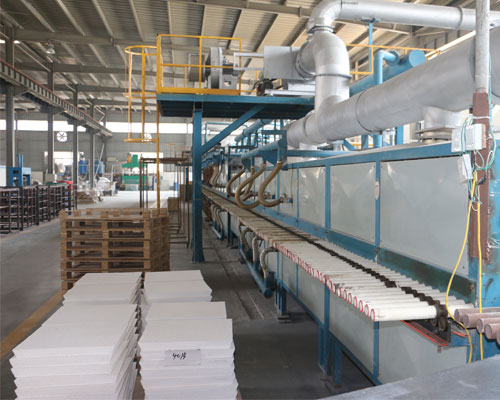 The invention relates to a preparation method of aluminum oxide ceramic foam filter for erosion resistance of aluminum liquid, and the specific steps are as follows:
1) Ceramic powder, solvent, dispersant and organic auxiliary agent are prepared according to the proportion of the slurry.
2) The dispersant and organic additives were added into the solvent and mixed evenly; the ceramic powder was added into the solvent while stirring to prepare a homogeneous slurry.
3) Polyurethane sponge was used as carrier, the slurry was impregnated and the surplus slurry was extruded to obtain the blank.
4) Put the blank into the oven and dry it. After drying, the product will be heated to 1100 ~1200 C and sintered at high temperature to obtain the alumina foam ceramic filter.
5) The boron nitride coating is coated on the alumina foam ceramic filter for non aluminum treatment.
Ceramic Foam Filter Manufacturers
Ceramic Foam Filter from AdTech Metallurgical Materials Co., Ltd has been focusing on research, development, production and marketing of the adhesive ceramic foam filter(CFF) for aluminum alloy casting Since 2012.
The technology of AdTech's ceramic filter has been widely approved by the market, applied for producing multiple series of aluminum alloys products, such as PS baseboard for printing, canning materials, flexible packaging materials, railway vehicle, aerospace products, cables, electrical wires and other high-precision filtration and purification for casting aluminum alloy.