Aluminum alloys are the most widely used non-ferrous metal structural materials in the industry. And they have been widely used in aviation, aerospace, automobile, machinery manufacturing, shipbuilding and chemical industries. With the rapid development of the industrial economy, and the demand for aluminum alloy has been increasing. Degassing Process is essential to remove dissolved hydrogen and non-metallic inclusions from the molten metal prior to casting to achieve optimum quality. The hydrogen, which is dissolved in the molten material, diffuses into the rising bubbles of fluxing gas and is transported to the surface of the molten material.
Degassing Process
Refining gas flow: inert gas storage tank → on-line degassing device gas control cabinet → graphite rotor nozzle → processed aluminum alloy melt → purify and degassing treatment.
Rotary degassing works on the principle of increasing the surface area of an insert gas exposed to the metal. The larger surface area increases the rate of transfer from metal to the inert gas. The smaller the bubble size for a given volume of gas, the greater is the surface area. The smaller bubbles disturb the surface of the melt less reducing additional hydrogen pickup from humid atmospheres.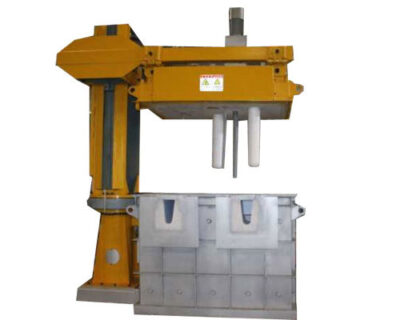 Working principle: A degassing device is placed between the holding furnace and the casting machine. In the degassing treatment tank, the nitrogen blown into the aluminum alloy melt is shredded by a rotating graphite rotor, forming a large number of diffused bubbles, so that the aluminum alloy liquid and the Nitrogen is fully contacted in the treatment tank. According to the principle of pressure difference and surface adsorption, the bubbles absorb the hydrogen in the melt in the melt, and adsorb the oxidized slag (larger by collision, small by radial interception). Scum is formed on the surface of the melt. The aluminum alloy melt flows from the outlet of the degassing device (located in the lower part of the scum) to the casting machine. The aluminum alloy liquid continuously enters the degassing device, and the nitrogen is continuously blown in. With the Degassing Process, the purpose of purifying the aluminum alloy liquid is achieved.