Choosing the right caster tip and nozzle material is important for aluminum sheet casting and rolling production. AdTech Caster Tip and Nozzle are used for the crystal forming and size control of aluminum sheet, strip, and foil blanks in the casting and rolling production line. It is formed by vacuum suction and filtration of nano-fiber composite materials and processed by high-precision equipment. AdTech Caster Tip and Nozzle Material have an even distribution of internal short fiber structure, moderate density, good heat preservation, precise size, high oxidation resistance, no delamination, no block loss, and low deformation.
AdTech ceramic fiber castertip effectively protects the surface quality of cast-rolled coils, and the effect is better when used with boron nitride coating.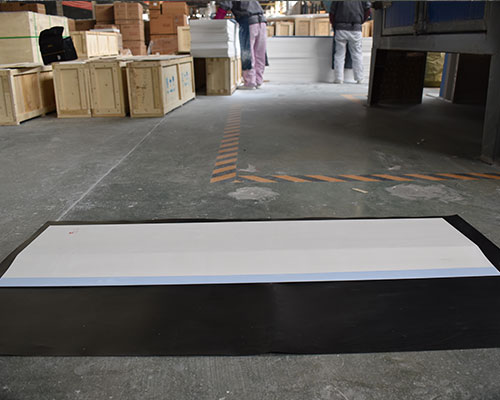 Installation of Caster Tip and Nozzle. Place the casting nozzle on the support trolley, check the alignment of the nozzle, and ensure that the end of the nozzle is parallel to the center line of the roll. Insert the fixing plate above the upper nozzle fan, and then tighten the screws. After the casting nozzle is fixed, push the nozzle between the two rolls, and observe whether the nozzle end and the roll are well aligned. If any misalignment is found, adjust the alignment in time.
Start the rolling mill, make the roll reverse at high speed, advance the casting nozzle by 2~5mm, and grind the nozzle. Withdraw the mouth and check whether the upper and lower lips are symmetrical and are uniform along the entire width direction. Otherwise, the above operation must be repeated until the casting area that meets the requirements is obtained. Retreat the trolley, clean the nozzle cavity and roller surface, push the mouth back into the original position, and move back 2~3mm to fix it.
Fixation of the side caster tip ears. After the casting nozzle is installed, reverse the roll at low speed, insert ears on both sides of the nozzle, and push until it is ground on the roll. After tightening the side fastening screws, stop the roll reverse and change to forward rotation. Check whether the grinding is normal. If it is normal, stop the machine and prepare for vertical plate production.