The foam ceramic filter plate is composed of a fine ceramic branch skeleton. The ceramic foam filter filtration mechanism has three aspects: one is to block impurity particles at each hole of the filter plate. The second is that when the metal melt passes through the filter plate, due to the tortuous channel inside the filter plate, the flow rate of the melt changes greatly, and some very small impurity particles settle in some corners of the filter plate. The third is because the filter framework has a huge surface, and this ceramic framework itself is also a porous ceramic body with interconnected pores and micro channels inside.
Ceramic Foam Filter Filtration Mechanism
The surface of this ceramic foam filter is not wetted by molten metal and has a strong adsorption capacity. It can adsorb solid fine inclusions or liquid flux inclusions that are not wetted by molten metal. The ceramic foam filter plate can not only filter out fine inclusion particles as small as 10-20μm in the alloy melt, but also filter out liquid flux inclusions that are difficult to filter with general filter media. The main technical parameters of the foam ceramic filter plate are porosity and uniformity, through porosity or blind porosity, flatness, strength and brittleness. Before use, preheat and dry, tap the filter plate with your hand to make the ceramic debris leave the ceramic plate, so as to prevent the ceramic debris from entering the aluminum liquid.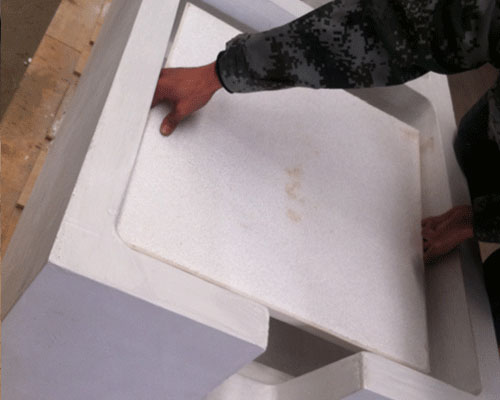 According to the experimental analysis based on the principle of fluid mechanics, due to the tortuous flow channel of the ceramic foam filter, its ability to transform liquid metal from turbulent flow to laminar flow is very strong.
Due to the rectification of the filter, the molten metal originally having strong turbulence becomes laminar when passing through the filter. After flowing through the filter, it takes a longer transition area to restore the original turbulent state. In this transition zone, the liquid flow is too late to develop into turbulence or less, thereby avoiding secondary oxidation of the metal.