Ceramic Foam Filter CFF provides a practical and cost-effective alternative to existing systems used in Tomago Aluminum smelter.
The ceramic foam filter is composed of phosphate-bound high-purity alumina, providing a high surface area for each filter unit. This high surface area allows the filter to attract inclusion particles that are much smaller than the cells themselves. The reduced pore size results in a decrease in the metal flow rate, thereby increasing the amount of molten metal in the recommended speed range.
Ceramic foam filter Dimension
660x660x50 mm(26″)
584x584x50 mm(23″)
508x508x50 mm(20″)
432x432x50 mm(17″)
381x381x50 mm(15″)
305x305x50 mm(12″)
228x228x50 mm(9″)
178x178x50 mm(7″)
Ceramic foam filter Pore Size (PPI): 20/30/40/50/60
Ordinary aluminum castings usually use 10-40ppi ceramic filter plates.
The 30ppi 40ppi cast filter is the most commonly used ceramic foam filter in the aluminum casting industry.
Aviation and high-quality aluminum materials usually use 30-60ppi ceramic filter plates.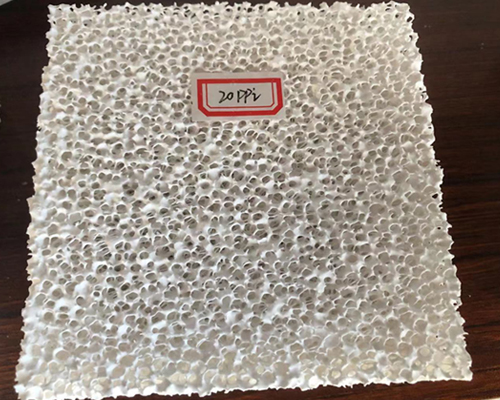 The aluminum industry requires strict metal quality standards to prevent the failure of key components such as automobiles, airplanes, and machinery. CFF Filtration is the last online metal treatment process before liquid metal becomes a casting. Many other upstream process stages are to control flow and reduce the content of the filtration system, with the goal of producing products that meet or exceed expected standards.
Ceramic Foam Filter is an online molten metal filter, widely used in Tomago aluminum smelter and foundry.
The Tomago Aluminum Smelter is located in Tomago, New South Wales, Australia, about 13 kilometers west of Newcastle, within the Port Stephens LGA. The annual production capacity of the smelter is 590,000 tons of aluminum (ingots, billets and slabs).
Tomago aluminum smelter is considered to be the country's largest energy user. It announced plans to switch to 100% renewable energy by 2030. It is expected that AGL's Bayswater coal-fired power station will be completed soon, making Tomago its largest customer.
According to reports, Australia's largest aluminum smelter Tomago Aluminium is negotiating with renewable energy suppliers, and its current energy contract with AGL will expire in 2028.
Australia's largest electricity consumer has stated that it plans to switch to mainly renewable energy supplies in 2029, and energy analysts say this move will greatly reduce carbon emissions in New South Wales.