Ceramic Foam Filters application includes the companies engaged in the rolling, drawing and extrusion of basic shapes of aluminum alloy such as plate, sheet, strip, bar and tube. In the aluminum continuous casting process, coolants and industrial water are used to cool the casting wheel or belt, lubricate the mill components and transfer aluminum particles and contaminants to the systems. filtration using gravity filters or vacuum filters. Particles and contaminants are removed by the filter and the system pumps transfer clean coolant to the workplace. Continuous casting also produces aluminum rods, sheets, and rolled products. The complete system sets include tanks, pumps, heat exchangers and controls.
Ceramic Foam Filters application includes companies that are engaged in the flat rolling of basic shapes of aluminum and aluminum base alloy, such as plate, plate and sheet. Also included is the production of similar products by continuous casting. For laminated aluminum applications, filtration of the coolant is required. The hot rolling process uses a water-soluble coolant that requires continuous flatbed air vacuum filtration to remove stains from the sheet. The cold rolling process uses a kerosene-based rolling oil which requires vacuum distillation recovery to remove heavy hydrocarbon oils and fats from the oil. Complete system sets including tanks, pumps.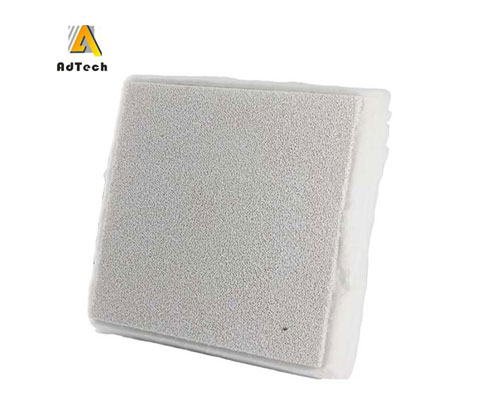 Ceramic Foam Filters application includes companies engaged in rolling, drawing and other operations resulting in the production of aluminum wire, rods and bars continuously rolled and cast. Continuous casting wire drawing and wire drawing processes generally use straight drawing oil or water soluble coolant, depending on the application. To prevent the build-up of contaminants in the coolant, it must be continuously filtered. For viscous oils, a bypass centrifuge provides the required clarification. Complete system packages including tanks, pumps, heat exchanger and controls can be offered.
There is very little functional difference between primary (mined or neat) and secondary (recycled) die casting aluminum when it comes to die casting. Secondary aluminum alloys are derived from the mixing and smelting of pure aluminum with other materials such as magnesium, iron, and copper. The use of pure aluminum in foundry is quite rare due to the cost of extraction. Ease of use in die casting combined with lighter weight and durability make aluminum alloys a top choice for designers in almost any industry.