The hydrogen absorption of die casting aluminum alloy in the melting process is the main reason for the formation of pinholes and the reduction of air tightness and mechanical properties. Therefore, various measures should be taken to strictly control the hydrogen content and other gases.
Measures to Control Hydrogen Content
Before entering the furnace, the rust and oil stain of the furnace charge shall be strictly removed and preheated to the specified temperature.
Before charging, the furnace should be dried to remove the moisture in the furnace, so as to avoid the contact between water vapor and hydrocarbon.
Before contacting with the aluminum alloy melt, it should be fully preheated to remove moisture, and the surface of iron tools should be coated with coating agent.
The molten aluminum refining liquid must be treated properly before smelting and drying.
In order to reduce the hydrogen content in the molten aluminum alloy, inert gas is injected into the molten aluminum to precipitate hydrogen.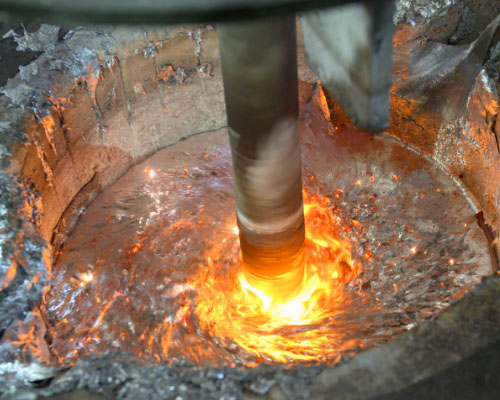 Degassing process refers to transporting the aluminum liquid in the intermediate ladle to the degassing unit, filling the inert gas into the aluminum liquid through the vent in the graphite rotor of the degasser, so as to release hydrogen, so as to reduce the hydrogen content in the molten liquid. To ensure the degassing process in aluminum alloy smelting, select good refining flux and degassing agent, reduce the gas content in the liquid aluminum, and timely remove the surface scum, bubble and other oxides, so as to prevent the gas from entering the die casting parts again.
AdTech specializes in the research and development, production and service of aluminum high temperature filtration and purification new materials. AdTech is a provider and solution provider of high-precision online degassing system and high-temperature filtration and purification materials for global casting aluminum alloy enterprises.