Three types of filters for deep filtration of molten aluminum have been developed: rigid medium filter, granular bed (deep bed filter) (DBF) and ceramic foam filter (CFF). The latter two devices are most commonly used for liquid aluminum filtration. Today, more than 50% of the world's wrought aluminum uses CFF.
CFF appears in block form. They are essentially made through the technology of "bubble replication". In this process, polyurethane foam is coated with ceramic slurry, and then dried parts are roasted. During the firing process, the polyurethane foam in the ceramic coating evaporates, leaving the porous ceramic (phosphate bonded alumina) foam. Ceramic foam filters vary in size from 18 cm to 66 cm, and the standard thickness is 5 cm. The filtration rate is usually between 0.6 and 1.6 cm / s.
The residence time of liquid metal in CFF is much lower than that in deep bed filter DBF. CFFs are generally less efficient than DBFs, and they have a shorter lifetime. On the other hand, CFF is cheaper and easier to use than DBF.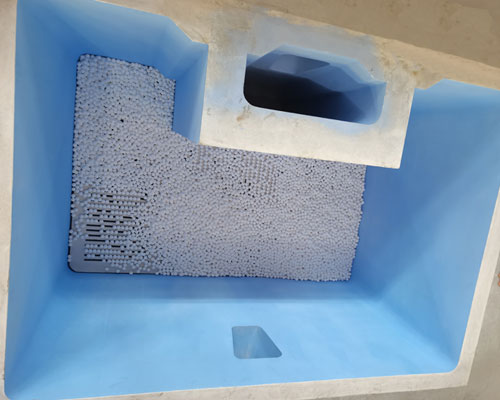 For liquid aluminum, the elimination of inclusions is especially important. Although efforts have been made to reduce the concentration of inclusions, the high reactivity of liquid aluminum and the presence of refractory materials will inevitably lead to the formation of new inclusions in the liquid metal, from the melt processing stage to the casting of semi-finished products.
Inclusions are classified as endogenous or exogenous according to their source. The chemical reaction of the liquid metal (for example, the formation of surface oxides) results in the formation of endogenous inclusions in situ. Foreign inclusions come from the external medium and penetrate into the liquid metal. Such inclusions can consist of refractory blocks from furnaces or tanks.
The design of filters used in today's aluminum casting workshops favors the use of depth filtration mode. The ceramic foam filter adopts the following modes of filtration: cake filtration of molten aluminum, in which suspended particles larger than the filter hole diameter are deposited at the entrance of the filter, and form a cake with increasing thickness to form the actual filter medium; deep filtration of molten aluminum, in which suspended particles The size is smaller than the size of the filter hole, so it enters the filter and is deposited in the filter (thus causing the filter to gradually become clogged).