AdTech provides a filter for molten aluminum, which has high thermal shock resistance, high corrosion resistance, adequate strength, is economical to produce, is environmentally friendlier and has a low density.
A particular feature of ceramic foam filters is the ability to utilize relatively inexpensive starting materials while still achieving superior performance. AdTech specially designed Ceramic Foam Filters are made of the basic raw material Aluminium Oxide, which is also called alumina ceramic foam filter.
Alumina ceramic foam filter for molten aluminum alloys comprising an alumina-silicate rich core and a boron glass shell and a chemical composition comprising: 20-70 wt % Al2O3, 20-60 wt % SiO2, 0-25 wt % of at least one oxide and 2-20 wt % B2O3.
Yet another embodiment is provided in a process for forming a ceramic foam filter. The process includes forming a slurry comprising a solid phase comprising 20-70 wt % alumina, 20-60 wt % silica, 0-20 wt % calcium compound, 0-20 wt %; magnesia and 2-20 wt % boron compound and a carrier phase. Impregnating an open-cell foam with the slurry, volatilizing the carrier, and sintering.
A particularly preferred embodiment is provided in a ceramic foam filter comprising 65-85 wt % of a core and 15-35 wt % of a shell encasing the core wherein the core comprises alumina silicate and wherein the shell comprises 15-45 wt % alumina, 2-35 wt % silica, 15-50 wt % boron oxide and 0-25 wt % of at least one oxide preferably calcium, barium, magnesium or strontium.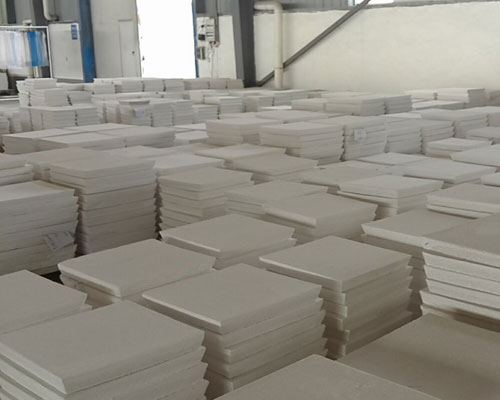 Ceramic Foam Filter for Molten Aluminum Features
A homogeneous pore structure
High surface strength
Temperature resistant up to 1100°C
Excellent resistance against chemicals used in foundries
Machined to tight dimensional tolerances
Excellent strength and thermal properties
Resistant to molten aluminium attack
Available in various sizes and grades
Reduced scrap
Better surface finish of castings
Increased metal quality
Ceramic foam filter Dimension
660x660x50(26″)
584x584x50(23″)
508x508x50(20″)
432x432x50(17″)
381x381x50(15″)
305x305x50(12″)
228x228x50(9″)
178x178x50(7″)
Ceramic foam filter Pore Size(PPI):10/20/30/40/50/60. 30ppi 40ppi Foundry Filter is the most commonly used ceramic foam filter in the aluminum casting industry. Ordinary aluminum casting usually uses 10-40ppi ceramic filter plates. Aviation and high-quality aluminum materials usually use 30-60ppi ceramic filter plates.