Grain refinement process is widely used in semi-continuous casting. Because the grain refinement process is convenient to use a refined wire feeder, the adding direction of the grain refiner and the adding speed of the refined wire can be adjusted appropriately to ensure the best refinement effect. Moreover, in the process of producing grain refiner, the grain of the grain refiner has been refined, which optimizes the refining effect of semi-continuous casting slab. For the addition of grain refiner, the feeder used can be controlled online with the automatic control system of the casting process, so that the adding speed and amount of grain refiner match with the actual casting process, and further improve the grain refining effect. The casting speed is accelerated, the speed of the grain refiner feeder is correspondingly increased, and the ratio of the added amount of grain refiner to the amount of aluminum liquid is constant, and the stability of the grain refining effect is maintained.
As the grain refiner is added to the molten aluminum, it will destroy the oxide film on the surface of the molten aluminum, so that some of the oxide inclusions enter the molten aluminum, resulting in an increase in the content of inclusions in the molten aluminum. In addition, the molten aluminum will be exposed to the air, the intake of the molten aluminum will increase, and the hydrogen content in the molten aluminum will increase. Therefore, the grain refinement process needs to be before the online degassing system and CFF filtering system, after the grain refinement process is completed, the aluminum liquid passes through the hydrogen removal device and the filtering device, the hydrogen and oxide inclusions are removed from the aluminum liquid, and the aluminum liquid is purified.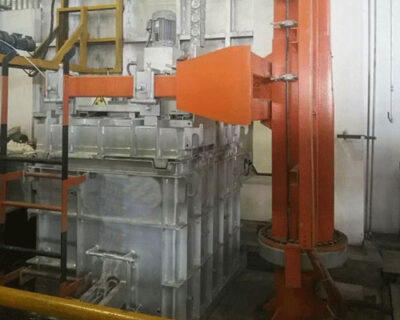 Since the melting point of Ti, which plays a role in the grain refiner, is very high, although the flux in the refiner can improve the melting process of Ti, a part of Ti remains in the state of particles. If the grain refinement device is too close to the ceramic foam filter, the unmelted Ti will filter out the granular Ti in it, reducing the grain refinement effect. Therefore, the grain refiner should be as far as possible from the ceramic filter to promote the melting of Ti and improve the grain refinement effect.