Liquid Aluminum Purification becomes one important step for casting aluminum alloy. With the development of modern science and technology and the demand of modern industry, materials science, as the three pillar industries in the 21st century, is developing in the direction of high specific strength, high strength and toughness. For a long time, cast aluminum alloy has been widely used in industry because of its low price, lightweight and reliable performance.
However, due to the solidification shrinkage of cast aluminum alloys and easily soluble hydrogen, it inevitably contains a certain number of defects, such as voids, oxides, and non-metallic inclusions. These defects have a great influence on the mechanical properties of the components. For example, avoid with a volume fraction of 1% will cause 50% fatigue.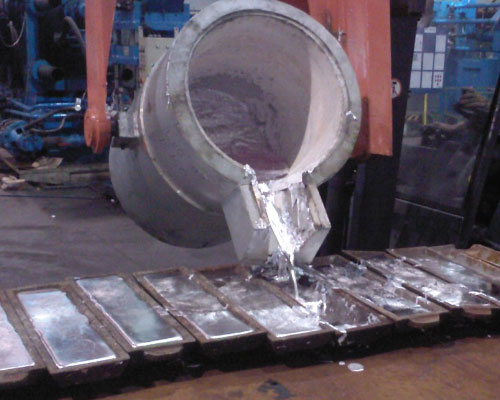 Liquid Aluminum Purification
After the liquid aluminum is discharged from the furnace, it is degassed on-line, filtered, and then enters the mold to start continuous casting. Online degassing is performed using a rotary degassing device. The purification process is based on the principle of adsorption purification. Refining gas is blown out through the rotor. With the help of the rotating nozzle, small bubbles are evenly distributed and fully contact with the melt in the reaction chamber to purify the melt. The refining gas can be nitrogen or a mixture of nitrogen and chlorine.
The main way to remove slag by filtration is to purify the melt by the blocking effect of the filter medium, friction force or fluid pressure to make impurities settle or block up. The production line adopts CFF two-stage foam ceramic filter plate, and the filter box is equipped with 2 sets of parallel filter plates. The filter board is a double-layer 30/50ppi composite foam ceramic filter board. The porosity of the upper filter plate is 30ppi, and the porosity of the bottom filter plate is 50ppi. The CFF foam ceramic filter can effectively remove slag inclusions with diameters greater than 20um, and the filtration efficiency can reach 75%.