The molten metal filtering device can effectively realize the safe and perfect filtering of molten metal (such as molten aluminum). The filtering device includes a filter housing arranged in a flow path for molten metal; a horizontal partition plate arranged in the filter housing and having at least one filter fixing device drill hole. The filter frame is detachably mounted to the filter setting hole in such a way that its upper part protrudes from the filter setting hole, and the position of the filter medium in the filter frame is set such that the upper surface of the filter frame is level. The filter medium is lower than the inflow path and overflow path of the molten metal.
The filtering device for molten metal can easily replace the filter medium of the flat porous ceramic material. It can prevent clogging caused by the solidification of the molten metal due to the oxide film entering the surface of the molten metal or the temperature drop of the filter medium itself.
In recent years, a molten metal filter medium made of a porous ceramic material and formed into a flat plate shape has been proposed. This filter medium has a large filtering capacity and can effectively process a large amount of molten metal continuously produced in the smelting furnace.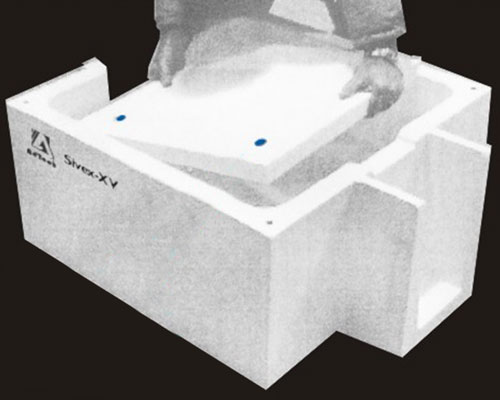 AdTech Online plate-type filtering unit adopts advanced high silicon melting technology. Mainly used for molten aluminum purification with high value-added and high technical performance. To replace the high-cost ceramic tubular filtering unit and ordinary plate-type filtering unit. The micron-level impurities in molten aluminum can be removed by this unit with our related technical guidance. Such as the casting for aluminum alloy in rail transit, micron foil, PS plate in the printing industry.
Plate-type Filtering Unit is used for the filtering and purifying of the molten aluminum, matching with the ceramic foam filter. It can filter the inclusions and tiny particles in the molten aluminum. Especially suit for the casting high purity aluminum and high precision aluminum alloy. It has the advantages of thermal resistance, anti-oxidation, corrosion resistance, warming up quickly, long lifetime and acid resistance.