The development of melt purification technology is mainly the extensive application of online processing technology. This method has almost brought the purity of aluminum melt to a new level, especially for the production of some high-precision and sharp materials to provide effective quality assurance. From the point of view of degassing, the device used focuses on the refining gas that can form a uniform and fine bubbles in the melt in the refining vessel, and make the melt passing through the vessel be blown by the refining gas as much as possible. The online processing technology that can meet the above requirements should be the online degassing method. A rotatable gas nozzle is installed in the refining vessel, so that the refining gas is sprayed out through the rotating nozzle to form fine bubbles, and the bubbles are evenly dispersed in the entire molten pool through the agitation of the rotor, thereby obtaining a better refining effect.
The presence of inclusions and gaseous hydrogen destroys the continuity of the metal. Due to the different elastic modulus and expansion coefficient between the inclusion and the metal matrix, the sharp corners of the inclusion phase are prone to stress concentration, which becomes the source of fracture and corrosion of the material. Aluminum alloy materials are prone to various defects during processing and deformation. In order to improve the processing performance and market competitiveness of the finished product, in addition to smelting aluminum melt and purifying the static process, the purification pouring system outside the furnace is more important.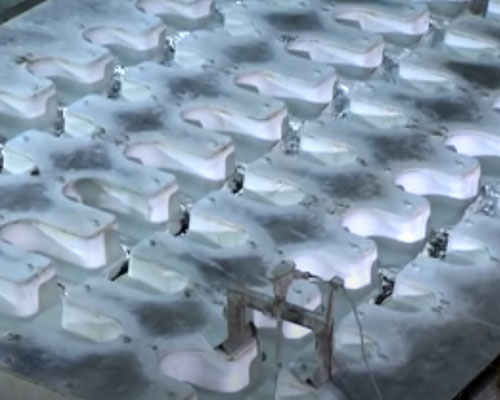 AdTech offers high quality casting launder, distributing launder for aluminum casting. The same level hot top casting plate uses a unified flow supply and distribution plate to connect multiple hot top molds. Make the metal liquid level in each mold in the whole casting plate be at the same level. Since the filtered aluminum liquid is at the same level in the whole casting plate, the flowing aluminum liquid will flow under the originally formed aluminum oxide film, which prevents Secondary pollution and oxidative burning of metals.