According to different industries, prefabricated refractory launders come in many shapes and sizes. They can also be called troughs, runners, or many other industry names. They cover a range from very simple in-situ installation to custom prefabricated parts for Y or T configurations and components for flow control.
Particularly challenging for refractories is the launder and trough. This is where refractories see the greatest metal velocity and wear loss.
The aluminum sink is a channel, usually lined inside, for transporting molten aluminum. Aluminum Launder is a good insulator that will not be wetted by molten aluminum and has excellent mechanical strength, including resistance to metal abrasion and physical damage.
The refractory launders are the basic equipment for aluminum alloy casting. Its main function is to transfer molten aluminum from the mixing furnace to the casting machine. The casting launder is specially designed for traditional high temperature resistant castables. During use, the surface is easy to stick to aluminum. The operator can clean the launder for up to 30 minutes, which can easily cause damage to the castable and cause high-temperature aluminum liquid to penetrate into the castable material, resulting in the gradual deformation of the shell steel plate. In addition, every time the runner is maintained, the casting material needs to be removed, and the shell steel plate must be calibrated and rebuilt. The maintenance process is labor-intensive.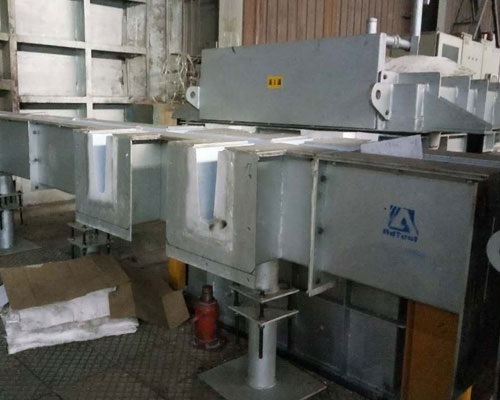 The refractory material used in the trough type is an unshaped refractory material. It has no specific size specifications. It only needs to use materials and the environment. High temperature environment has acid corrosion, alkali corrosion, wear resistance and erosion resistance performance. Under working conditions, suitable refractory castables should be selected according to the application environment and properties.
We recommend using ceramic fiber runners instead of traditional pouring runners, which make the metal transmission distance longer and reduce the temperature drop. Combined with Adtech board as an insulation cover, it can save a lot of energy.
Adtech offers many proven solutions to ensure the longest service life in these areas. Please contact our sales and application engineering team to learn more about your application.