Alumina ceramic foam filter foundry is mainly used for filtering aluminum and aluminum alloy in cast house. These filters are machined to tight dimensional tolerances, are treated during processing, and have very low friability.
Alumina ceramic foam filter foundry is used to filter and clean aluminum used for beverage can applications and aircraft alloys. They are a proven, cost-effective way to remove inclusions from aluminum melts.
Molten aluminum generally contains entrained solids that are deleterious to the final cast metal product. These entrained solids appear as inclusions in the final cast product after the molten metal is solidified and cause the final product to be less ductile or to have poor bright finishing and anodizing characteristics. The inclusions may originate from several sources. For example, the inclusions may originate from surface oxide films which become broken up and are entrained in the molten metal. In addition, the inclusions may originate as insoluble impurities, such as carbides, borides, and other eroded furnace and trough refractories.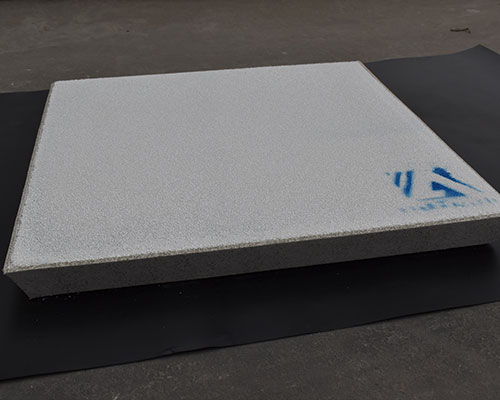 Ceramic foam filter provides a simple, reliable, and cost-effective method to remove inclusions. CFF filtration is a supplement to the metal treatment in the furnace, such as flux, degassing, or online filter. They have an open-cell network structure with high porosity and a large surface area, which can trap inclusions. The open-cell foam structure is composed of ceramic materials, such as alumina, mullite, or silica.
Alumina is the most common filter material. The ceramic foam filter operates in a deep-bed filtration mode, and the entire cross-section of the filter retains inclusions smaller than pores.
A ceramic foam material and process for making same having superior strength and durability properties wherein the impregnated foam impregnated with an alumina hydrate binder is fired at an elevated temperature so as to produce a ceramic body characterized by a solid-state, sintered ceramic bond.