The development of high-performance aluminum alloys is mainly focused on improving the comprehensive properties of the material's strength, plasticity, toughness, corrosion resistance, and fatigue performance. Aluminum Alloys Reinforcement methods include mainly through adjustment of alloy composition, the use of new alloy elements, new processing and manufacturing technology and other ways to develop. However, high-strength aluminum alloys prepared by traditional casting methods are still the most widely used aviation structural materials. In fact, the properties of these aluminum alloys prepared by traditional methods still have great potential to be tapped. Therefore, research work has been carried out in various countries around the world through various strengthening and toughening measures and the development of traditional high-strength aluminum alloys. The work mainly includes the following aspects.
Aluminum Alloys Reinforcement
Adjust the content of the main alloy elements in the alloy and the ratio of each component, add trace transition elements and rare earth elements, thereby changing the ratio of various compounds in the alloy and the physical properties of the alloy, in order to develop new alloys corresponding to various needs. For example, the use of mold low-frequency electromagnetic casting technology can develop a new type of higher strength high-strength aluminum alloy, this technology can make the matrix solid solution more alloy elements.
Further reduce the content of various impurities such as Fe, Si, improve the purity of the alloy, study the methods and technologies of controlling the content of impurities, improve the fracture toughness, fatigue resistance, and stress corrosion cracking resistance of high-strength aluminum alloys, and the ability to resist casting cracks. When the content of Fe and Si is less than 0.1%, the above properties will be greatly improved.
Develop and apply various new heat treatment processes and technologies to improve the comprehensive performance of high-strength aluminum alloys. Research and use high-temperature homogenization annealing above the over-sintering temperature) process, the purpose of which is to maximize the residual non-equilibrium phase and aging-strengthening phase into the matrix, and evenly distribute, to improve the supersaturation of the solid solution after solution treatment Degree, thereby improving the effect of aging strengthening.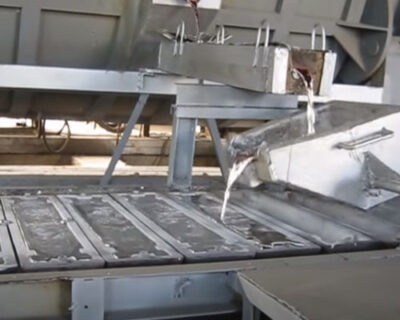 Research and develop various advanced melt purification and modification treatment technologies, focusing on solving the problem of low ingot metallurgical quality. Melt purification and modification treatment methods can significantly affect the properties of the alloy, especially the fracture toughness and electrical conductivity. At present, the melt purification treatment methods include: melt standing in the furnace + solvent treatment, chlorine treatment, N2+Cl2 treatment, Ar+Cl2 treatment, C2Cl6 treatment, N2+Cl2+CO treatment, and flux refining treatment. Purification treatment methods outside the furnace include: online degassing method, CFF (ceramic foam filter) filtration method, etc. AdTech provides advanced aluminum melt purification technology, which can provide large-scale high-quality ingots for the production of high-performance aluminum alloy thick plates.