Aluminum Casting and Rolling Process
Take out the pre-processed mouth fan, gasket, etc. from the holding furnace, check and correct them quickly. Put the nozzle on the casting nozzle inlet device and push it in, and adjust the gap between the nozzle roll and the ear roll, and adjust the length of the casting zone. Ensure the distance between the nozzle end of the roll outlet side and the roll centerline. Take out the pouring system from the heating furnace, set up the runners and clean them, block the joints, prepare the ceramic filter plate and the aluminum titanium boron wire used.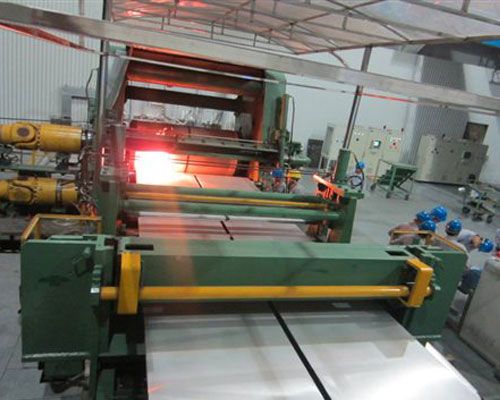 The temperature of the refined aluminum melt is controlled at 730~745℃, enters the launder from the orifice, adds the Al-Ti-B wire grain refiner into the launder, and then enters the purification treatment device. After the aluminum melt flows out of the purification treatment device, it enters the front box that can control the liquid level. It flows into the feed nozzle made of insulating material through the cross runner on the bottom side of the front box, and the liquid metal directly enters the middle of a pair of casting rolls rotating in opposite directions from the feed nozzle by static pressure. The heat of the aluminum melt in contact with the surfaces of the two rollers is transferred from the cooling water inside the rollers through the roller sleeve. At this time, the casting rolls quickly crystallize the liquid metal. With the rotation of the casting roll, the heat of the aluminum melt is continuously taken away by the casting roll through the solidified shell, and the temperature of the crystallization front continues to drop. The crystal surface continuously advances into the melt. When the upper and lower crystal layers thicken and meet, the casting process is completed and enters the rolling zone, where it becomes a cast-rolled strip after aluminum rolling deformation.