Since argon is an inert gas and does not react with molten aluminum, it can replace the hydrogen in the aluminum melt, greatly reducing the hydrogen content in the aluminum melt, and improving the mechanical properties of the aluminum alloy. The pinhole degree of the solution-processed by the aluminum rotary degassing method can reach the first-level standard of the national standard.
In production, in order to quickly detect the hydrogen removal effect of the aluminum melt, the density index comparison method is usually used. It is to take out the density ρ true of the sample solidified in vacuum and the density ρ positive of the sample solidified in air. Density index=(1-ρtrue/ρpositive)×100. Generally, the density index of molten aluminum for pressure casting is less than 1.5; the density index of low pressure casting and gravity casting is less than 1 as qualified for molten aluminum.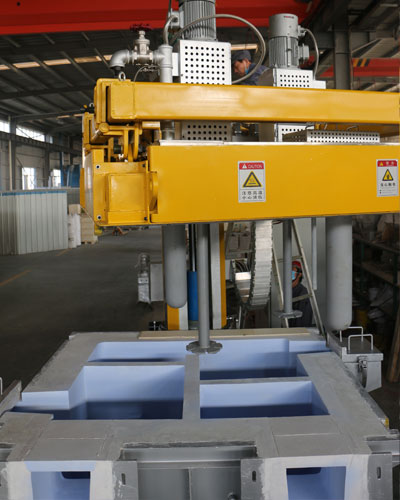 Aluminum Rotary Degassing
In the aluminum rotary degassing process, the more and finer the argon bubbles, the larger the contact area of ​​the molten aluminum with the bubbles, the shorter the diffusion distance of hydrogen atoms in the molten aluminum, the longer the bubbles stay in the molten aluminum, and the better the degassing effect.
During the aluminum refining process, the graphite nozzle rotates and sprays at the bottom of the molten aluminum. On the one hand, it promotes the accumulation of small inclusions in the molten aluminum in the transfer bag. On the other hand, the surface of the molten aluminum is always stable. There is no violent turbulence, the mixing of oxygen is avoided, and the generation of oxide inclusions and the secondary dissolution of hydrogen are reduced.
Ar is an inert gas, non-toxic, tasteless, pollution-free, and does not require waste gas treatment equipment. Ar hydrogen removal is mainly to physically remove hydrogen from the aluminum melt, and its use does not cause the danger of flux inclusion. The formed scum is brought out of the molten aluminum by bubbles. Compared with the flux purification, the slag formation is small, and no toxic gas is generated, which greatly improves the working environment and reduces the harm to the environment.