Pinhole defects in aluminum alloy castings are the most prominent cause of casting scrap. The existence of pinholes not only reduces the effective working area of ​​the casting, but also provides a source of cracks, and accelerates the crack propagation process, which ultimately leads to a decrease in the mechanical properties of the material. The pinholes mainly come from the slag content and hydrogen content in the melt. Hydrogen accounts for about 85% of the total gas in the aluminum melt. Since the solubility of hydrogen in solid aluminum is about 1/20 in the liquid state, the hydrogen dissolved in it will precipitate to form pinholes when the aluminum solidifies. Refining aluminum alloy with rotating argon injection can remove hydrogen and slag, purify aluminum liquid, and achieve the purpose of eliminating pinholes in castings.
Refining Aluminum with Argon
The working principle of degassing unit is that when the motor drives the rotor to rotate (usually the speed is 380 rpm-450 rpm), the argon gas (flow rate is 0.5m3/hour-1.5m3/hour) is broken into very small bubbles The existence of these small bubbles reduces the concentration of hydrogen in the molten aluminum and the partial pressure of its surface, thereby reducing the concentration of hydrogen in the molten aluminum, so that the hydrogen is carried out of the surface of the molten aluminum by argon, and burned on the liquid surface.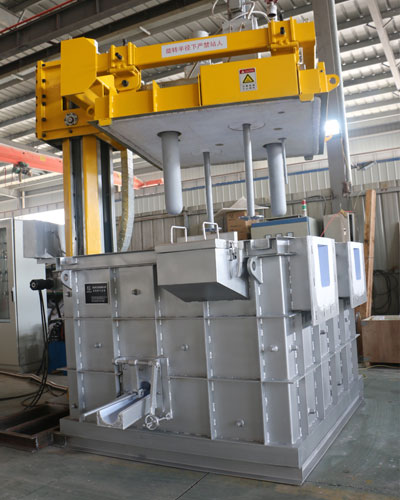 In addition, when the small argon bubbles move toward the liquid surface at the bottom of the molten aluminum, when the hydrogen dissolved in the molten aluminum hits the argon-aluminum liquid interface, the hydrogen changes from a dissolved state to an adsorbed state, which is in the adsorption layer. The gas atoms in the gas react to produce hydrogen molecules. As the bubbles grow, they rise to the surface of the molten aluminum and burn. Furthermore, when small argon bubbles move from the bottom of the molten aluminum to the liquid surface, the suspended particles in the molten aluminum are agitated, and the inclusions collide, aggregate and grow up. When the inclusions reach a certain size, they may collide with the floating bubbles, be captured, and then be brought to the liquid surface to achieve the effect of slag removal.