Ceramic fiber filter application is widely used for air purification, high-temperature flue gas filtration, chemical filtration, molten metal filtration.
Ceramic Fiber Filter Application
Air purification: At the end of World War I, the asbestos fiber filter paper was the first filter material for air purification. Glass fiber, as an air and gas filter medium, was first patented in the United States in October 1940. The successful development and utilization of uipa filter paper in the United States, Japan, and other countries provides the key air filter materials for the rapid development of its integrated circuit, automatic instrument, and aerospace technology.
High temperature flue gas filtration: In the modern industrial production process, high temperature gas purification technology is widely used, such as high temperature gas, high temperature reaction gas in petrochemical and chemical industry, high temperature flue gas from blast furnace and converter in metallurgical industry, silicate industry high temperature flue gas of boiler and incinerator.
Chemical filtration: Due to its high temperature resistance, organic solvent resistance and strong acid-base corrosion resistance, ceramic fiber filter can give full play to its characteristics in chemical production and has a wide range of applications.
Diesel exhaust particulate capture: Ceramic fiber filter has high operating temperature and can be used to capture diesel exhaust particulates.
Molten metal filtration: In metallurgical industry, non-metallic inclusions in castings have been one of the most common casting defects encountered in casting products. Using a ceramic foam filter to purify liquid metal can reduce the reject rate caused by 60% ~ 80% slag or inclusion, improve the cutting performance of the finished product, improve its mechanical properties and surface quality.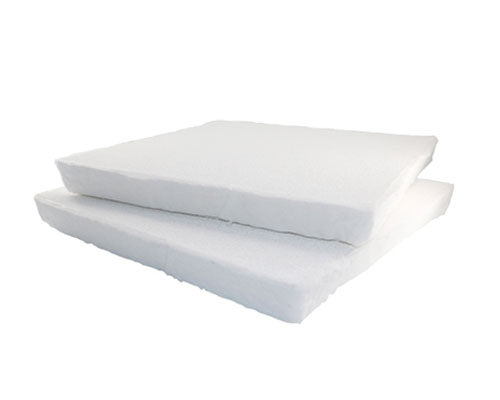 The characteristics of Ceramic Fiber Filter are as follows:
The dust collected by filtration is superfine particles.
The filtration efficiency is particularly high.
The resistance is relatively low, and the air flow resistance is not greater than 250 Pa at 800 h air flow rate.
The water resistance is good, which can not only filter conventional air, It can also filter wet air with water resistance no less than 2500pa.
It has high strength and good stiffness.