The Ceramic Insulation Blanket is produced in a continuous process. After needle punching, the fibers are evenly interwoven and have high tensile strength and do not contain any binder. Acupuncture blankets of different bulk density and thickness provide users with a wide range of materials. Ceramic Insulation Blanket is also called ceramic wool insulation, aluminum silicate fiber blanket, ceramic wool blanket.
Ceramic fiber blanket is white in color and regular in size. It integrates refractory, heat-insulating and heat-insulating functions. The ceramic fiber blanket maintains good tensile strength, toughness and fiber structure when used under neutral and oxidizing atmosphere, and is not affected by oil stains. After drying, it can restore its thermal energy and physical properties.
Ceramic Insulation Blanket Features
· Acupuncture to improve fiber interlacing and delamination resistance
· Low thermal conductivity, good thermal insulation properties, low temperature shrinkage
· Low bulk density and low heat capacity, greatly shortening the heating and cooling time of the furnace
· Good tensile strength, chemical stability, corrosion resistance
· Good thermal shock resistance, sound absorption performance
· Easy cutting and installation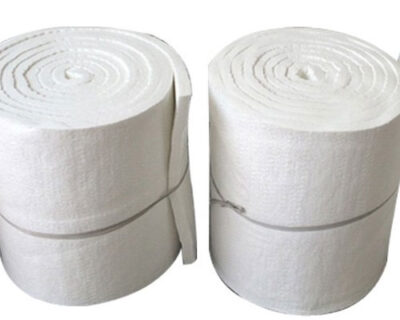 Insulation Blanket Application
· High temperature environment filling seal and heat insulation (kiln car, pipe, kiln door, etc.)
· Various industrial furnace linings (hot surface and backing)
· Production of folding block/veneer block
· Building fire prevention, sound absorption
· High temperature filter material
AdTech also provides ceramic fiber tap-out cone. Refractory fiber cone is manufactured from high purity alumina silicate fibers and mixing with inorganic binders by vacuum forming process. It is an excellent product used in aluminum alloy melting furnace to control the production flow of molten aluminum. The surface of the tap out cone is very smooth and its dimensions are precise. The ceramic fiber tap-out cone is widely used in the cement steel, chemical, mining milling, smelting, port, coal-fired thermal power plant, aluminum alloy melting furnace for die casting industry. Other shapes like sleeves or risers for sand casting foundry. Ceramic Fiber Tap out cones used for control or block the flow of the liquid aluminum for the precision casting of alumina and aluminum alloy.