Degassing With Nitrogen is one method of adsorption purification. Adsorption purification refers to the direct contact between aluminum melt and adsorbent (such as various gases, liquids, solid refining agents and filter media), so that the adsorbent and the gas in the melt and solid oxide inclusions have physical, chemical or mechanical action to achieve the purpose of degassing and impurity removal. The adsorption purification equipments include online degassing device and CFF filtering box.
Online degassing device adopts bubble floating method, is to pass inert gas (such as nitrogen, argon, etc.) into the aluminum melt to form bubbles. Hydrogen in the melt diffuses into these bubbles under the action of partial pressure difference, and is eliminated with the rising of bubbles, so as to achieve the purpose of degassing. In the process of floating, bubbles can also absorb some oxidized inclusions, which can remove impurities.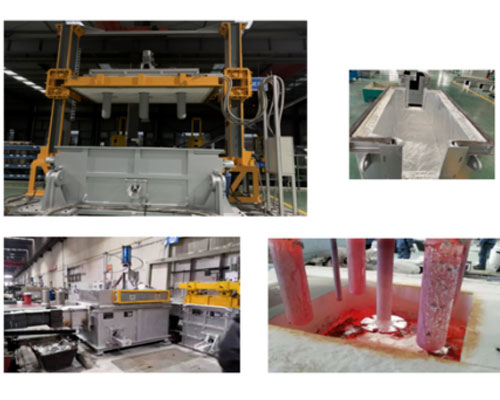 The effect of Degassing aluminum method depends on the nature and purity of inert gas on the one hand, and the size and dispersion degree of bubbles in the melt. If the smaller the diameter of the blown bubbles is, the more uniform the distribution is, the larger the specific surface area of bubbles, the shorter the distance of hydrogen diffusion into bubbles, the slower the bubble floating up, and the higher degassing rate. In addition, it also depends on the blowing time, Process parameters such as blowing pressure, blowing temperature and so on.
The Degassing With Nitrogen method is the best method in the blowing method. It mainly depends on the shape of the rotating head and the breaking of bubbles by the rotating head with appropriate high speed to control the size and distribution of bubbles. The rotating head is the technical core of these methods. Different rotating heads produce different sizes of bubbles. No matter which method is used, the bubbles generated are generally mm grade. The rotating speed of the rotating head is 300 ~ 500r / min, and the blowing pressure is constant between 2 ~ 3 atmospheres.
The disadvantages of rotary injection method are mainly manifested in the low degassing rate, which is generally below 70%; the bubble size is not small enough to reach the μ m level, which is determined by the shape of the rotating head; if the rotating speed of the rotating head is too high, it is easy to cause the melt to tumble, produce suction phenomenon, and reduce the pressure in the central region of the melt, resulting in foaming phenomenon. Therefore, after rotating the degassing of aluminum, CFF filtration is required.