The distribution tip is a key component of caster rolling strip production. The selection of a reasonably designed caster rolling feed nozzle can improve the partial flow, so that the speed of the metal flowing out of the cross section at the outlet of the feed nozzle is kept consistent, and the temperature is kept uniform. The caster distribution tip and nozzle can improve the surface quality of the cast-rolled sheet and reduce the defects, such as longitudinal stripes, structure stripes, cleaning bars, and oxide scale pressing that affect the surface quality of aluminum foil.
Users have higher and higher requirements for the surface quality and smoothness of the foil, which puts forward higher requirements for the surface quality of the cast-rolled strip. The surface quality of the cast-rolled strip is one of the key factors affecting the surface quality of the finished aluminum foil. In order to obtain a good surface quality of the cast-rolled strip, not only the process parameters must be adjusted and strictly controlled, but the equipment and components also play a very important role.
The caster distribution tip for caster rolling strip includes a nozzle fan, a shunt block and ears. There are two ears, which are arranged on the left and right sides of the nozzle fan, and the ears and the nozzle fan enclose the mouth cavity of the casting-rolling nozzle. There are several shunt blocks, and the several shunt blocks are uniformly distributed in the mouth cavity in an arc shape along the width direction of the mouth fan.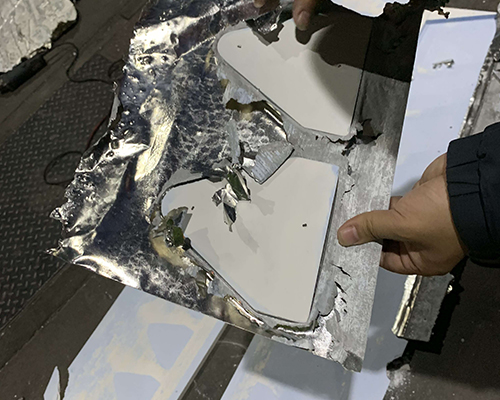 The shunt block reduces the shunt resistance. On the one hand, it enlarges the confluence area and expands fully to both ends, but can not form other shapes. When the confluence meets, the resistance tangent and vortex phenomenon will not occur in the cavity, so there will be no slagging and cooling defects such as edges, shrunken edges, hidden strips, airways, and scale shedding.
The material of the casting tip and nozzle is pressed by aluminum silicate felt and boron nitride. It has the characteristics of good heat preservation performance, good high temperature resistance, low thermal expansion coefficient, no chemical reaction with liquid metal, and no air bubbles and oxidized slag.