The ceramic foam filter is a sheet filter, which is installed online between the metal processing system and the casting equipment. The ceramic foam filter box has the dual functions of filtering and heating molten aluminum liquid. The principle of foam ceramic filtration is that the molten metal passes through two ceramic filter plates to trap impurities in the aluminum liquid. The filtering effect depends on the selection of the number of filter media holes. The filter flow rate depends on the size, number and number of holes of the filter plate. The resistance is installed in the cover on the box body during heating, and its purpose is to keep the metal temperature at the temperature set by the operator and to increase the metal temperature during continuous casting.
In the late 1970s, the United States made a sponge-like ceramic foam filter made of aluminum oxide and chromium oxide, referred to as CFF. It not only has a good purification effect, but also is easy to use. The initial pressure difference through the melt only needs to be 100~150rm, and once it passes, it only needs to maintain a pressure difference of 2-10mm. The principle of foam ceramic filtration is the same as ceramic tube filtration, and both belong to the deep filtration mechanism. It has a higher porosity (80%~90%) than the ceramic tube, so it has a large flow capacity and is suitable for filtration and purification in continuous ingot casting and continuous casting and rolling production. It is used in conjunction with the online degassing purification method, and the effect of degassing and slag removal is better.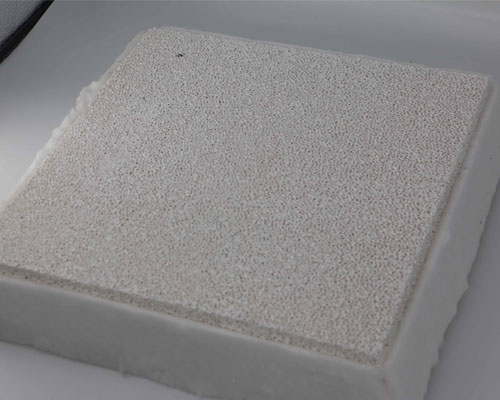 The choice of foam ceramic sheet firstly depends on the filtration accuracy. Generally, a pore size of 10 holes/cm can meet the requirements of aluminum liquid purification. If the aluminum liquid is particularly dirty, use about 6 holes/c large pore filter for pre-filtration to prevent premature clogging of the fine pore filter. This kind of large aperture filter is also commonly used in the transfer stage from the electrolytic aluminum electrolytic cell to the static furnace. Secondly, according to the requirements of casting speed, consider the flow rate of metal per unit time to determine the size of the filter. The performance indicators of the foam ceramic filters produced by AdTech have reached international standards and are widely used in major aluminum plants.