The purification method in which the melt passes through a filter composed of neutral or active substances to separate the solid inclusions suspended in the melt is called filtration. The filtration method is the most effective and reliable method to remove non-metallic inclusions in aluminum melt.
Purification Method
Use active or inert filter materials to filter the melt. When the alloy passes through the active filter, it is blocked due to the adsorption of solid inclusion particles with the filter. When the alloy passes through inert filtration, the impurities are filtered out with the help of mechanical barrier.
The inert filter is a mesh made of alkali-free aluminum-boron glass, also known as a mesh filter. If the particle size of solid non-metallic impurities is larger than the filter holes during filtration, they will be retained. However, the mesh size cannot be larger than 0.5*0.5m because the aluminum melt cannot pass through the 0.5*0.5m filter glass cloth. Nevertheless, the use of a suitable screen filter can reduce the content of solid inclusions in the alloy to 2/3-1/2 of the original content.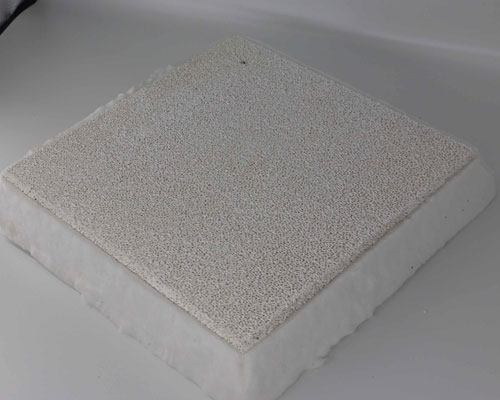 Adopt block filter material. Ceramic foam filter plate is the most used block filter material. Foam ceramic filtration is a very effective tool for obtaining the purity of molten metal during the casting process. It is characterized by very good thermal conductivity, stability, and resistance to sudden temperature changes. The ceramic foam filter adopts the principle of adsorption, which can effectively remove large particles and small particles of impurities without dropping debris, effectively reducing the pollution of molten aluminum. Excellent thermal shock resistance improves the erosion resistance of molten metal, stabilizes the flow of molten aluminum, facilitates casting and filling, reduces slag and pinhole defects, and improves the quality and productivity of aluminum alloys.
The general size is 200*600*50mm, and the porosity is as high as 0.8-0.9. It is characterized by easy use and good filtering effect. It does not require a high pressure head during filtration. The initial size is 100-150mm, and only 2-10m after filtration. The ceramic foam filter is cheaper. After filtering, the solid inclusions in the melt are greatly reduced. There is a gasket around the ceramic foam filter, which is located between the filter and the filter box to prevent molten aluminum from leaking through the interface.