As a kind of metal, aluminum has a wide range of applications in aviation, construction, automobile and other industries. With the development of aluminum processing technology, various aluminum materials have been continuously developed to meet the needs of my country's modern social development. As the first process of aluminum processing, casting quality is directly related to the final quality of aluminum. In order to better improve the efficiency of aluminum processing and cast high-quality aluminum products, it is necessary to increase the research on the casting technology, and at the same time choose high-quality molten aluminum casting material companies at home and abroad.
Molten aluminum casting material auxiliary equipment and consumables: filter box, degassing box, casting launder and trough, ceramic foam filter plate, hot top casting parts, castertip, etc.
AdTech specializes in the research and development, production, and service of new materials for aluminum high-temperature filtration and purification. It has a strong technical force and a complete production management system. This is an international company dedicated to the development and production of aluminum, ceramic filter plates, hot-top casting accessories, casting nozzle plates, and on-line degassing systems for flux.
Products are sold to 27 state-level aluminum companies, such as Chinalco, Alcoa, Alcan, Rusal, Dubai Aluminum, and Indian Aluminum.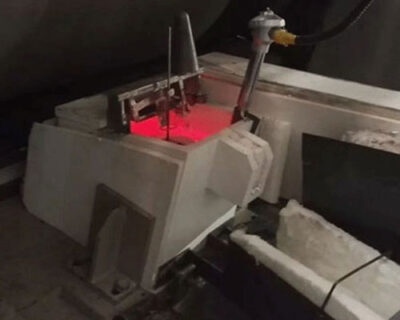 AdTech is a provider and solution provider of high-precision online degassing filtration equipment and high-temperature filtration and purification materials for global casting aluminum alloy enterprises.
The online degassing equipment adopts Japanese technology and has a reasonable design structure. The hydrogen cleaning efficiency is stable at 60% to 80%.
Ceramic foam filters are sintered through Al2O3 molten materials at high temperatures. It has high strength and super adsorption performance, which can effectively filter micron impurities in molten aluminum.
Hot top castings are made of refractory materials, with high strength, aluminum scrap rate, and long service life.
The roll casting nozzle is made of nano-natural fiber composite material and is integrally formed with high precision and not easy to be carbonized and deformed.