Because online degassing is degassing during the flow of the aluminum melt, and the time for nitrogen to contact the melt is short, its degassing efficiency is lower than that of furnace refining. After online degassing, the remaining inclusions and adsorbed hydrogen in the melt are already very small. But in the process of melt flow, inclusions will be involved and inhaled, so the remaining part of hydrogen is the most difficult to get out.
After filtering, the hydrogen content dropped again, indicating that CFF has a certain effect of removing hydrogen. The mechanism is that the hydrogen content in molten aluminum is greatly affected by the inclusion content. Under the same hydrogen content, the higher the inclusion content, the higher the pinhole rate of the ingot. And even at low hydrogen concentration, the pinhole rate is still very high, and it is difficult to remove it by general methods. On the contrary, when the inclusion content in the molten aluminum is very low, the hydrogen content is also low. Even if hydrogen is artificially injected into the molten aluminum, the hydrogen will automatically escape and return to the original content. This is the so-called hydrogen-inclusion parasitic mechanism. That is, the supersaturation reached before the formation of the hydrogen bubble is a function of the number of hydrogen bubble nucleation, and the oxide and other inclusions play the role of the bubble core.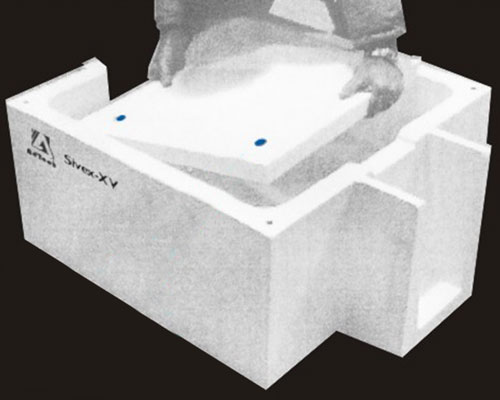 AdTech ceramic foam filter adopts the principle of adsorption to filter, which can effectively remove large inclusions in the aluminum liquid, and effectively adsorb micron-sized inclusions, and the filtration accuracy of the same mesh size is high. It has the function of improving surface quality, product performance, and microstructure. It does not drop slag and effectively reduces the pollution of molten aluminum. Good thermal shock resistance and improved corrosion resistance to molten metal. Automated assembly line production, three calibration procedures, accurate size, more suitable for the filter box.