Refining and slagging aluminum alloy is to remove gas and impurities in liquid aluminum. In the existing die casting industry, the combination of physical adsorption and chemical reaction is often used.
Refining and Slagging Aluminum Alloy
The first method is blowing and powder injection refining, which uses cheap nitrogen (or gas) after dehumidification to blow into liquid aluminum, and at the same time adding powder refining agent to make the aluminum liquid in the furnace fully contact with the gas and powder, and the bubbles generated absorb the gas and impurities in the liquid aluminum and float up to the liquid surface. Therefore, the size of the refining bubble and the bubble time are closely related to the refining quality. The reaction time of refining should not be too short, which is generally required to be 6-10 minutes, sometimes up to 15 minutes, and the size of bubbling is also very important; some refining fluxes react violently and the liquid in bubbles is very high, which is not good, but increases oxidation and reabsorbing. It is hoped that after the reaction of flux, the bubble will be uniform for a long time, and the bubble will be 10 cm higher than the liquid level.
The second one is to use refined particles, which are fed into molten aluminum by air-jet tank and agitated continuously along the lower part of molten aluminum to achieve the purpose of full contact between molten aluminum and bubbles.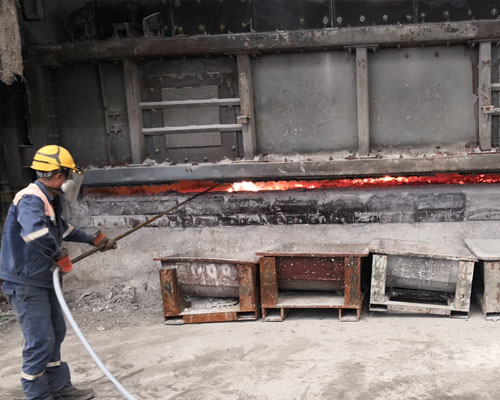 When choosing the granular refining agent, attention should be paid to the suitable material, the minimum refining temperature, the size and time of bubbling, the release of harmful gases and the residue of harmful impurities in the refining agent. A good block refining agent can produce decomposition reaction at 650 ℃ – 680 ℃, with bubble emission, which has a certain heating effect at the same time. During refining, the foaming time is long, and the bubbles are uniform, rather than very intense. After bubbling, they become small bubbles. After refining, the residue can be completely removed, and the bubbles emitted have no peculiar smell, which is harmless to human body. If the bubbling time of refining block is less than 5 minutes, it should be conducted again, and the refining time must be guaranteed to be within 6-10 minutes.