Riser Sleeve Used in ARC and graphite ring ensure the dimensional accuracy of the Aluminum billet. Riser Sleeve is also called sprue bush, aluminum casting billet mold. To meet the growing demand for aerospace alloy material, Wagstaff developed the ARC mold technology. It solves the challenges inherent to large diameter, aerospace alloy billet production. ARC technology provides billet casters the ability to produce aerospace alloy billet production. The microstructure of the solidified ARC billet has documented characteristics, it can produce ideal forge stock. The key capability of the ARC mold technology is the advanced temperature variation control across the molten metal sump. It minimizes billet cracks and improves overall grain structure. Riser sleeves are widely used in hot-top casting for Aluminum and Aluminum alloy, especially good performance work with Wagstaff for Aluminum alloy-precision casting.
Riser Sleeve Used in ARC Features
Ceramic sprue bush adopts high-Si glass and α-AL2O3 compound material.
High density& hardness, good thermal shock and impact resistance, have corrosion resistance to molten metal.
Without deterioration and deformation, and good oxidation resistance at high temperatures.
High precision, Long working life, and low maintenance cost.
A certain degree of resistance to sudden changes in temperature, comprehensive performance of thermal shock resistance, high thermal conductivity, and small thermal expansion.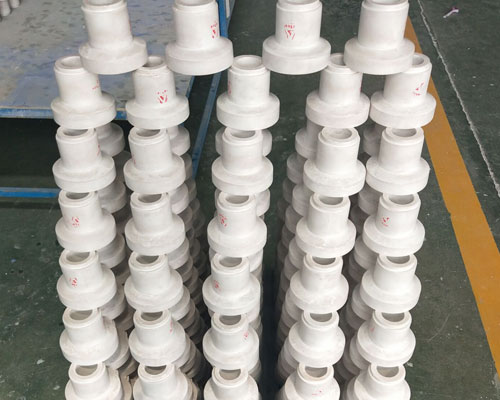 Good Riser Sleeve can avoid oxide impurities and secondary pollution of hydrogen element produced by casting process. The Riser Sleeve affects the long-term stability and service life of the thermocouple and other performance indicators. Especially thermocouples that work at high temperatures have higher requirements for their materials. For example, for continuous temperature measurement of molten aluminum, the Riser Sleeve not only has to withstand high temperatures, but it is also subject to corrosion and impact from hot aluminum. When measuring temperature in a circulating fluidized bed boiler, not only high-temperature oxidation and high-temperature corrosion, but also high-temperature erosion wear of fluid powder.