Aluminum dross recycling has certain economic value. The worldwide aluminium industry produces nearly five million tonnes of furnace waste each year. Known as dross, aluminum slag is produced in aluminum melting processes. The deslagging flux has the function of removing slag in the high-temperature molten metal. Because scrap aluminum slag contains a variety of metal oxides, it can be used to extract metals.
Waste aluminum slag contains various metal oxides. In the event of water, a chemical reaction will occur, producing a poisonous and harmful irritant gas "ammonia". The gas not only stimulates the human respiratory tract, but also pollutes the surrounding environment. It may even explode during transportation.
Aluminum dross cannot be landfilled. Because the molecules can diffuse into the groundwater layer. Aluminum-containing sewage or solid matter can cause water and soil pollution. Aluminum pollution can cause harm to animals and plants, and even make them unable to survive.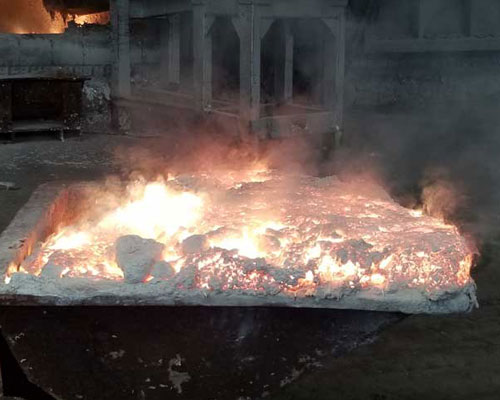 Aluminum Dross Recycling
Aluminum slag is produced during aluminum smelting, and some impure mixed metal slags, but there is still a certain amount of aluminum, which can be refined through separation.
The aluminum dross recycling technology is established in the research of the industry smelting waste slag treatment project, and the aluminum ash treatment technology and equipment are researched and developed, and a mature aluminum ash treatment system has been introduced. The aluminum ash processed by the aluminum ash separator and the cold aluminum ash that has not been separated can be crushed, sieved, and melted. Until it is cast into a finished aluminum ingot, the aluminum ash is treated fairly cleanly.
The research on aluminum ash is mainly concentrated in developed countries such as Europe, America and Japan. Europe is concentrated in Italy and Spain, the United States is concentrated in Argonne National Laboratory (ANL) and Yanboda Technology Co., Ltd., while the research of Japanese related companies is mainly reflected in AD fans. The representative company for the research and industrialization of aluminum ash for secondary aluminum processing is Italy's Anchitech Technology Co., Ltd., which developed a recycling system for secondary aluminum ash as early as 40 years ago. Perfect, several factories have been built in Europe.