The advantages of Aluminum Casting Ceramic Foam Filter:
Reduce gas and inclusions that are contained in the casting, reduce the turbulence level of molten metal when filling the mold, reduce surface defects in castings, and significantly reduce the rejection rate of casting.
Increase the compressive sealing of casting, increase elongation and tensile strength of casting, improved surface finish of casting, improve the mobility of molten metal, increase the filling capacity and the feeding capacity of melt.
Simplify the casting system, reduce the length of the lateral flow channel, improve casting yield.
Reduce the processing time and tool abrasion, improve surface quality of casting.
Ceramic foam possesses high mechanical strength, chemical stability, high resistance to thermal shock and liquid metal flow shock even under high-temperature environment. No slag or broken in working process, to ensure the quality and stable chemical composition of the molten metal.
Has a large and stable metal flow, even if the high content of inclusions in molten metals, ceramic foam filter will not be plugged. Very high dimensional accuracy can be automatically placed in production line.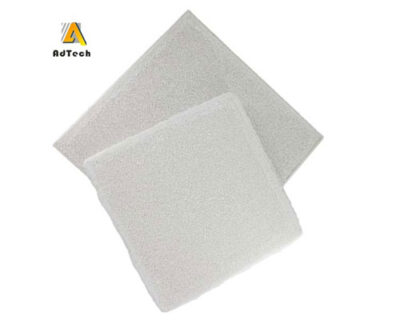 The presence of nonmetallic inclusions is detrimental to the production of premium quality castings. High attainable mechanical properties are a key aspect that is readily lost in the presence of inclusions and oxide skins. The mechanical properties of high-strength aluminum alloys are very sensitive to notches or imperfections in the casting.
Aluminum Casting Ceramic Foam Filter Filtration effectively reduces inclusion levels and subsequent notch effects caused by inclusions. Conventional techniques for attempting to remove inclusions are ineffective, and the use of metal or fiber screens isn't sufficient to keep the metal truly free of harmful non metallics.
Premium quality castings generally restrict the acceptability of surface defects that are revealed by dye penetrant inspection. Research has shown the level of such defects is reduced when Alumina Ceramic Foam Filter is involved. A marked decrease, or total elimination, of indications has been noted.
Another benefit that is gained from the use of Aluminum Casting Ceramic Foam Filter is the reduction in the x-ray evidence of non-metallics. The presence of x-ray defects under these circumstances is often the basis for the rejection of expensive castings. The most significant benefit is the reduction of defects visible in those areas that are designated as "structurally critical."