Casting Used Tap Cone was designed to prevent aluminum leakage in aluminum plants, reduce risk, and improve automation and safety. Practice has proved that the plugging system has a simple and compact structure, stable operation and convenient maintenance.
In recent years, aluminum alloys have exploded. The reasons for this are mostly due to the aluminum leakage from the aluminum outlet and the inability to block in time. The furnace is filled with liquid aluminum. Once the aluminum is leaked, the high-temperature aluminum liquid is quickly leaked. The site personnel cannot get close to where it is, and the manual can not effectively block the leakage. If there is an aluminum accident that cannot be blocked by human beings, it may cause a major accident.
Casting Used Tap Cone
Casting Used Tap Cone is mainly made of high-grade high-silicon oxide and other formulas. It is used in aluminum melting furnaces, static furnaces and other aluminum nozzles. It is suitable for aluminum melting furnaces, refining furnaces, static furnaces, outlet furnace. Ceramic fiber tap-out cone is made from high purity alumina silicate fibers mixing with inorganic binders by vacuum forming process. It is widely used in aluminum alloy melting furnace to control the production flow of molten aluminum. AdTech provides refractory fiber cones for aluminum liquid applications, to make the aluminum and its alloy casting process more convenient.
The mouth insulation makes the aluminum and aluminum alloy casting process more convenient, safer and more reliable. The aluminum processing and casting workshop is used for the special aluminum plugging liquid of the casting furnace. The material is high silica fiber and the fire resistance temperature is 1200 degrees.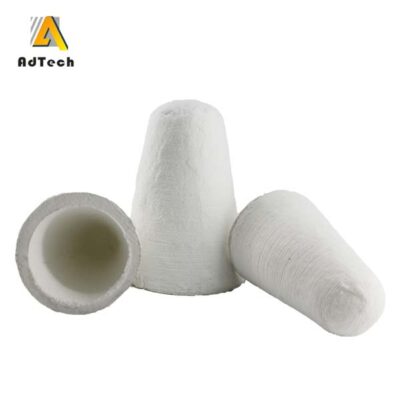 Features of Tap Out Cone
Abrasion and impact resistant ability
High hardness
Smooth surface
Good thermal insulation
Durable mechanical strength
Dimensional stability
Saved maintenance time and expenditures