Although molten aluminum undergoes a series of purification treatments in the furnace, the degree of purification is limited, and a certain amount of gas and inclusions remain in the melt after refining. In order to produce high-quality round aluminum rods, the aluminum melt should be purified as much as possible. For this reason, an online molten aluminum purification device is installed between the smelting furnace and the ladle of the production line, which includes filtration and continuous gas refining.
Online Purification of Molten Aluminum
The continuous gas degassing device uses high-purity N2 to rotate and spray into the aluminum melt through a graphite rotor. The molten aluminum flows in from the top of the degassing box, and spirals down under the stirring of the rotating graphite rotor. The N2 sprayed from the graphite rotor is broken into fine bubbles under the friction force of the nozzle and the aluminum liquid, and is evenly dispersed in the aluminum melt. The fine bubbles are fully mixed with the downstream aluminum melt during the ascending process to bring out H2 and inclusions and purify the melt. The on-line degassing temperature of aluminum melt should be 720~730℃.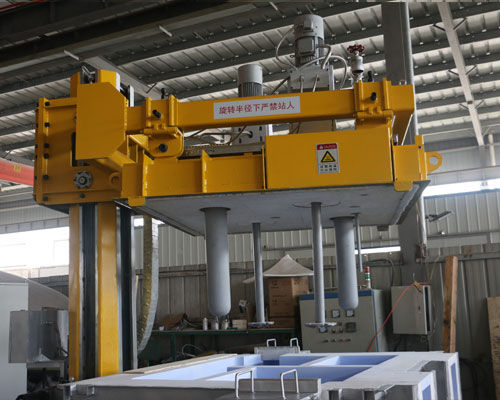 The plate filter device is mainly composed of a CFF filter box and ceramic foam filter plate. The filter plate is immersed and placed horizontally. The inner lining of the filter box is made of high-density molten silicon sintered, and the anti-aluminum infiltration material is added to improve the service life of the filter box. At the same time, it has the characteristics of low thermal expansion coefficient and better thermal shock resistance. The main function of the filter plate is to absorb and intercept large-size inclusions in the melt and the fine inclusions distributed in a suspended state by the adsorbed gas. The ceramic foam filter plate can prevent impurities from entering the casting ladle.