Alumina ceramic foam filter board can effectively remove and absorb large or small impurities in molten aluminum, improve the surface quality, product performance, and microstructure effectiveness. Mainly used in aviation, transportation, and other aluminum alloy precision casting.
Alumina Ceramic Foam Filter Board Supplier
AdTech alumina ceramic foam filters are sold all around the world for molten aluminum purification. Our filters clean aluminum used for billet casting, foil casting, slab ingot casting, and all other critical applications.
AdTech is committed to continuously improving filtration performance in the aluminum industry. The effect of cell size in filtration, floating dust leaking, filter bowl/Box design, board strength, and preheating both filter and bowl are critical to proper filter performance. These elements will help you understand the filter performance and choose the best solution for your application.
Ceramic foam filter technology, aluminum purification solution, and on-site trouble shooting. AdTech focuses on the aluminum alloy casting industry to provide solution for ceramic foam filter system, hot-top casting system, caster tip solution etc.
AdTech offers high-temperature Ceramic Fiber Boards produced through the wet forming process of ceramic fiber and binders.
These ceramic fiber boards are featured with high-temperature stability, low thermal conductivity, consistent density, and excellent resistance against thermal shock and chemical attack. Ceramic fiber board also resists oxidation and reduction. Ceramic fiber boards are available in a variety of temperature ratings, densities, thicknesses, widths and lengths, and custom vacuum-formed shapes available.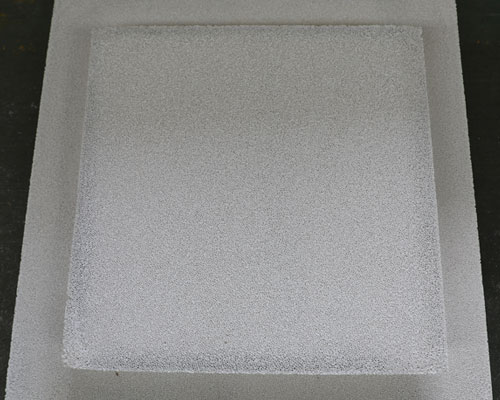 Ceramic Fiber Board Features
– Vacuum formed boards up to 60-inch x 60 inch & 8 inches thick
– Higher temperature boards up to 3000F (made to order)
– Machining capabilities. (Please send us your prints for quoting)
– Extra high-density boards for higher strength & better-machined surface (made to order)
– "Rigidizing" with colloidal silica or colloidal alumina
(Results in surface skin for better abrasion resistance, reduced pilling & increased strength)
– Burn out furnace to remove organics