The casting nozzle is a key component for directly distributing and conveying aluminum liquid to the roll gap during the casting and rolling process. The rationality and practicability of the structure and the selection of the material of the casting nozzle are carried out normally to stabilize the various process parameters and improve the casting and rolling slab. Quality is very important.
After the casting tips and nozzles are dried, the nozzle is taken out and processed into a certain shunt structure and opening according to the product specifications. This process will cause the nozzle to contact the external environment and cause a certain amount of suction. Therefore, it needs to be pre-heated before use. Heat treatment to thoroughly dry the nozzle plate reduces the thermal expansion during the riser process.
The preheating of the casting nozzle adopts a circulating ventilation oven to preheat the casting nozzle at a high temperature, and the heating temperature is selected to be between 140 and 180. The warm-up time should be guaranteed to be more than 4 hours. The pre-heated casting nozzle should be put into production in time. If it is taken out for too long, it must be pre-heated again before it can be used on the machine.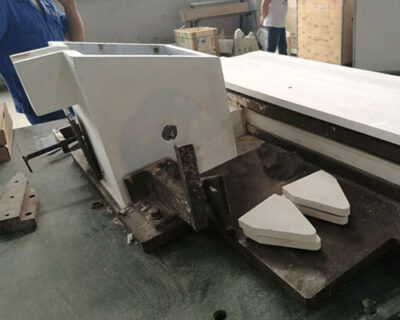 Aluminum Silicate Ceramic Caster Tip
The material of the casting nozzle must not chemically react with the aluminum liquid, have no erosion, have a certain strength and rigidity, have a small thermal expansion coefficient, and have a certain thermal stability. After treatment, the alumina fiber material and the ceramic fiber material can meet the above requirements.
The main component of AdTech castertips material is aluminum silicate refractory fiber. It has a series of characteristics such as high refractoriness, high use temperature, high temperature stability, resistance to aluminum liquid corrosion, and low hygroscopicity. Compared with general high-temperature refractory materials, the biggest difference is that the fibers are not brittle, and the matrix of the fibers is soft filaments. When these fibers are interwoven together, they are soft, porous, and lightweight, so they bring a series of advantages such as light weight, low thermal conductivity, small heat capacity, and good thermal shock resistance. This is the use of aluminum silicate fiber as a casting The main reason for the mouth material.