The Aluminum Silicate Ceramic Caster Tip is a key component that directly distributes and transports the molten aluminum to the roll gap during the casting and rolling process. The rationality and practicability of its structure and the selection of the nozzle material ensure normal production, stabilize various process parameters, and improve the cast-rolled slab quality is very important.
The main component of the casting tips and nozzle material is aluminum silicate refractory fiber, which is mainly composed of A1.0 and Si0, which has high refractoriness, high use temperature, good high-temperature stability, aluminum liquid corrosion resistance, and low moisture absorption. Series characteristics. Compared with general high-temperature refractory materials, the biggest difference is that the fiber is not brittle, and the fiber matrix is ​​a soft filament. After these fibers are woven together, they are soft, porous, and light, which brings a series of advantages such as lightweight, low thermal conductivity, small heat capacity, and good thermal shock resistance. This is the use of aluminum silicate fiber as a casting The main reason for mouth material. According to the observation results of the French casting nozzle material under the microscope, it is found that the fiber diameter is 1~3 microns. Therefore, when using aluminum silicate fiber as the casting nozzle material, the fibers must be selected as required, and short fibers should be used.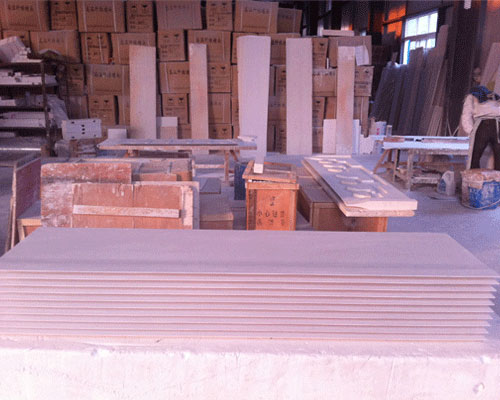 Aluminum Silicate Ceramic Caster Tip
The basic requirements for industrial casting tips are that they have good chemical stability at working temperature, do not pollute or be corroded by molten aluminum, have good compatibility with aluminum silicate fibers and have low moisture absorption. In addition, at the working temperature, the thermal expansion should be compatible with the properties of the matrix, and the dimensional stability should be good. Therefore, metal oxide powders with the above basic properties should be selected as fillers.
The basic requirement for the adhesive is that it must be a liquid during the bonding process and can bond to the solid surface well; the adhesive should be able to infiltrate the adherend well, the smaller the contact angle The better, so that the adhesive is evenly distributed on the entire surface of the light alloy processing technology of the adherend. Since ceramics, metal oxides and silicates are hydrophilic substances, it is best to use water-soluble binders. It has a proper viscosity during the bonding process, and can gradually cure during the bonding process or shortly after bonding. It has good thermal stability and does not generate gas. In this way, inorganic binder should be selected.
In short, choosing a high-quality Aluminum Silicate Ceramic Caster Tip can avoid the phenomenon of suction explosion and blockage of the inner cavity of the nozzle during the vertical plate process, improve product quality and increase the success rate of the vertical plate.