Foam Ceramics filter uses polyurethane foam as the carrier. After hydrolysis, the foam is immersed in the coating made of ceramic powder, binder, sintering aid, suspending agent, etc., and then the excess coating is squeezed out, so that the ceramic coating is evenly coated on the framework of the carrier to form a green body, and then the body is dried and roasted by high temperature.
The foam ceramic filters separate the inclusions in the liquid casting alloy by 3 physical and chemical actions on the molten metal to achieve the effect of purifying the molten metal.
Foam Ceramics
In the process of melting and forming castings, aluminum alloy is easy to absorb gas and mix with nonmetallic impurities, which reduces the service performance and processing performance of castings. The foam ceramic filter developed recently provides a new and efficient filter for the production of aluminum alloy castings. Different from the common single-layer drilling screen plate and glass fiber screen, it has multi-layer network and curved through-hole, which can fully filter out the small non-metallic inclusions in the aluminum alloy melt, so as to improve the quality of the casting. Foam ceramic filter is used for filtering aluminum alloy melt. Leather is usually used as a bluish stone with a mesh size of 0.8~1.0mm. The Xi'an aircraft manufacturing company adopted the (90mm * 80mm * 20MM) foam ceramic filter to increase the pass rate of the oil pump elbow, clutch shell, torque converter shell and other castings by 40%~70%.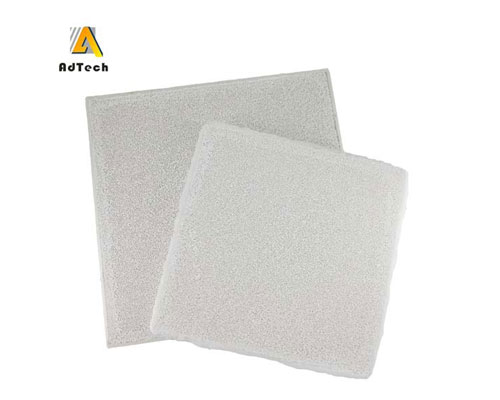 Nonferrous metal melts (brass, bronze, zinc and tin) will also produce oxide and non-metallic debris during casting process. A lot of waste products will appear. If the foam ceramic filter is used, the reject rate can be greatly reduced. Cordierite is usually used to filter copper alloy melt with mesh size of 1.0 ~ 1.2mm.
Foam ceramics are also suitable for ball milling cast iron, alloy steel and stainless steel casting filtration of superalloy. Iron and steel alloys have larger specific gravity and higher melting point. They require high temperature strength, softening temperature and thermal shock resistance of foam ceramics, which are higher than those of filtered aluminum and copper. Alumina and silicon carbide foam ceramic filters are usually chosen, and the mesh size of the filter is 2~min.