Flux For Aluminum Melting method is the process of aluminum alloy melting, adding flux into the melt, through a series of physical and chemical actions, to achieve the purpose of degassing and impurity removal. The impurity removal ability of flux is determined by the adsorption and dissolution of oxide inclusions and the chemical interaction between flux and melt. The smaller the interfacial tension between the flux and the inclusion, the better the flux adsorption and the stronger the impurity removal.
Flux For Aluminum Melting
In addition to the Flux For Aluminum Melting, which is mainly used to remove gas and impurities, there are also some other fluxes, such as covering agent and slag cleaning agent. The repeated use of various fluxes increases the smelting cost and increases the probability of introducing impurities artificially. Therefore, the development of new fluxes with covering protection, purification, deterioration, and refinement functions is still one of the development directions in the future.
At present, there are many kinds of fluxes developed and used at home and abroad, such as those produced by AdTech company. These fluxes include Refining Flux, covering flux, deslagging flux, oxide removal flux. AdTech's refining flux is white with slightly gray powdery fine particles. The main ingredients are chloride and villiaumite, together with other compounds.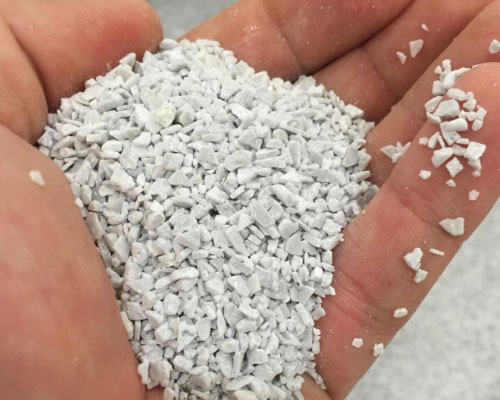 In order to overcome the disadvantage that the traditional flux adding method can not make the flux and molten aluminum fully contact, in recent years, some new flux adding devices, such as flux injection and flux rotating spray, have appeared. In the flux injection method, inert gas is used as the carrier to blow a certain amount of powder flux from the blowing pipe to the bottom of liquid aluminum. Once the flux leaves the blowing pipe, it melts into small droplets, which can provide a large specific surface area, thus greatly improving the effectiveness of the flux. In addition, flux spraying and flux rotating spraying can also reduce the amount of flux and shorten the processing time.