The requirement for the production of aluminum ingots and billets for the preparation of high-quality aluminum products is that molten aluminum is relatively free of inclusions, such as insoluble solid impurities or immiscible solution impurities. This is to ensure that these ingots or blanks can meet the stringent requirements of such high-quality products after downstream preparation, such as packaging materials, aerospace products. In the process of producing molten aluminum, insoluble impurities or inclusions are generated during the entire reduction, maintenance, alloying and casting process. It is desirable to remove these inclusions by filtration in the final process before the molten aluminum solidifies into an ingot or billet. Over the years, the industry has used a variety of methods to achieve this requirement, such as bed filtration and porous ceramic filter filtration.
In the early 1970s, an open-porous porous ceramic filter filtration used in cast aluminum housings was developed, and the technology was first commercially applied in 1974 to produce plates and rolled ingot of sheet material. Porous ceramic filter media is used for single-time pouring or replaceable integral filter media.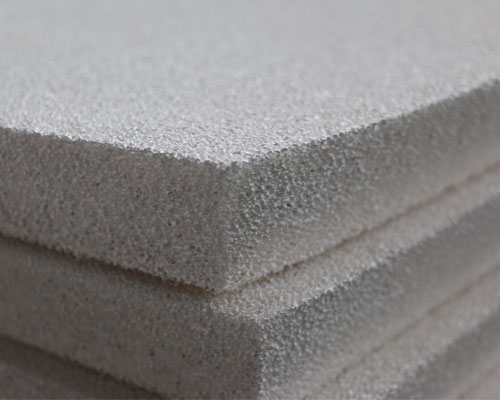 The pore size of the ceramic foam filter medium is 4 to 28 pores/cm (10 to 70 pores/linear inch), which corresponds to pores with a diameter of about 0.036 cm to 0.26 cm. Porous ceramic filter media are usually made into squares with dimensions 22.86cmx22.86cmx5.08cm (9 inches x 9 inches x 2 inches) to 66.04cmx66.04cmx5.08cm (26 inches x 26 inches x 2 inches). Fix the fiber paper liner on the inclined edge to provide side pressure load, so as to fix the filter medium in the proper position in the filter box and prevent metal from bypassing the edge of the filter medium. The thickness of the fibrous backing material is usually about 0.317 cm to 0.476 cm (1/8 inch to 3/16 inch) and is usually composed of silicate fibers. For molten aluminum, the typical use time of the filter medium is 30 minutes to 120 minutes.
In the 1980s, porous ceramic filtration technology was quickly and widely accepted in the market, thereby manufacturing aluminum products with high quality on a large scale, including packaging materials, lithographic printing plates, and aerospace products (sheets). Materials, plates, forgings, extruded products), bright trims, condenser tubes, foils, extrusion products for construction, cast alloys, and conductive cables and wires.