AdTech offers Rotary Degasser and flux for molten aluminum degassing. In the rotary degassing method, inert or chemically inert gases (argon, nitrogen) are removed through the rotating shaft and rotor. The energy of the rotating shaft leads to the formation of a large number of fine bubbles, thus providing a very high surface area to volume ratio. The large surface area promotes the rapid and effective diffusion of hydrogen into the bubbles, thereby making the activity of hydrogen in the liquid and gas phases equal.
The online degassing unit adopts new high silicon melting material manufacturing technology. The main components include a mechanical drive, box lid, rotor, and heater. AdTech degassing equipment can meet the production of aluminum products with high technical performance requirements. Aluminum degassing machine is between the furnace and the casting machine, the main function is removing hydrogen and other residues. Otherwise, these gases will affect the quality and mechanical properties of aluminum and its alloys.
Compared with flux degassing, the rotary degassing system can remove hydrogen more thoroughly. In addition, the rotary degasser does not use harmful chlorine and fluoride salts.
The rotary degassing unit can also combine the functions of degassing and flux introduction. In this case, the inert gas acts as a carrier for the granular flux. This method is called flux injection.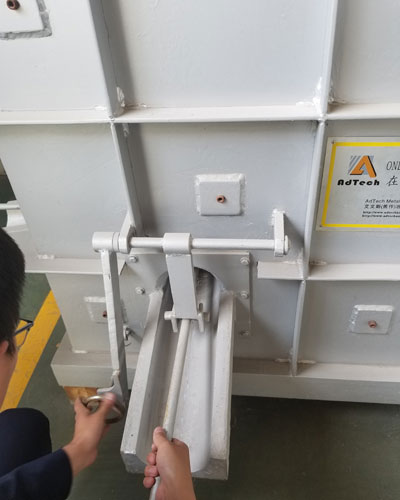 Advantages of flux injection:
Due to better mixing with the melt, the effectiveness of the flux action is high;
Flux processing time is short;
Controllable flux introduction;
A more environmentally friendly flux method.
The degassing efficiency of Degassing Box is stable at 60% on average, and when the argon-operated aluminum liquid is less than or equal to 1%, the best degassing effect can reach 0.09 cc/100 g. The sealing structure of the on-line degassing device is designed to completely prevent the slag generated by the secondary oxidation of the aluminum melt by the cover design of the tank cover, the box body, and the aluminum melt port, and effectively improves the degassing effect.