In order to protect its position in the global automotive industry, aluminum foundries must meet or exceed higher technical specifications to provide better quality and cleaner metals. One of the most effective technologies used by foundry is rotary degassing. The rotating degassing technology is becoming more and more important for foundry and widely used in the industry. Inert gas is injected through the rotating impeller. In this process, inert gas (argon or nitrogen) enters molten aluminum through a rotating impeller with multiple nozzles. Bubbles are produced by shear and collision with rotor blades.
Rotating Degassing Technology
Molten aluminum has high chemical reactivity and reacts rapidly with water to form hydrogen atoms which are easy to dissolve in. Water comes from vapor in the atmosphere, wet refractories, wet raw materials, combustion products, etc. Unfortunately, when molten aluminum is cast and solidified in the form of semi-finished products, atomic hydrogen no longer dissolves in the solid aluminum and forms bubbles of molecular hydrogen, which in turn produces small and harmful pores. Porosity is one of the most serious defects in aluminum castings because it leads to a significant reduction in mechanical properties and corrosion resistance.
Many methods and techniques have been used in industry to degass molten aluminum. For example, gaseous and solid fluxes are mixtures of chlorides and fluoride salts that can be used to remove dissolved hydrogen from aluminum and its alloys by chemical reactions. Vacuum removal of hydrogen from molten aluminum is based on the equilibrium relationship between dissolved hydrogen and hydrogen partial pressure in the surrounding atmosphere. The ultrasonic degassing of aluminum depends on the diffusion of dissolved hydrogen to cavitation bubbles, which are generated by their pulsation and discharge from molten metal.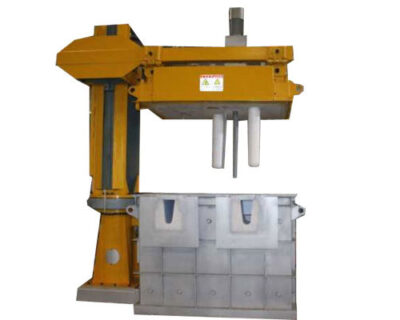 AdTech offers online rotary degassing unit for H2 removal. The rotating degassing technology removes these undesirable components by bubbling gas, usually nitrogen, through molten metal. The gas is usually introduced through a degassing rotor, which reduces the bubble size and disperses nitrogen throughout the molten metal bath. As the resulting bubbles rise through the molten metal mass, they absorb the hydrogen dissolved in the metal and remove it from the melt. In addition, the non-metallic solid particles are swept to the surface to be removed by skimming.